With turnover up to £300m, the beds specialist has grown its market share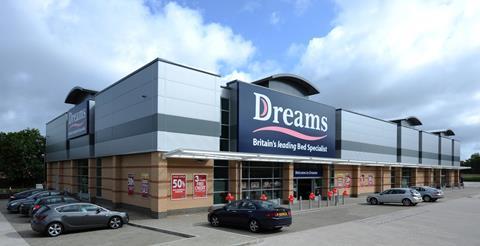 DFS experiences profit rise
Sofa specialist DFS has revealed a market-beating 3.1% rise in EBITDA to £56.2m in the nine months to April 30. Sales excluding VAT during the period edged down 0.7% to £486m.
Chief executive Ian Filby said the profit rise reflected cost reductions, mainly through more efficient marketing. Filby told Retail Week the market had "softened" but that he was pleased with the "solid" results.
He said DFS, owned by private equity firm Advent, has been investing to "enhance the difference between us and the competition". Eight stores will open in the next financial year.
Beds specialist Dreams prioritised market share and business investment in its last financial year, resulting in higher sales but lower profits.
In a punishing big-ticket environment, Dreams' EBITDA fell to £11.2m from £25.1m in the year to December 24, 2010 as the retailer invested in store openings, training and IT.
Turnover was 7% up to £300m as the retailer took share in the battered furniture market. The retailer estimated its market share in beds has surged from 18% to 22%.
Dreams chief executive Nick Worthington said: "It was a tough year. EBITDA has gone backwards for the first time, but without doubt we've grown market share and expect that to continue."
Worthington said the business was "single digit down" on a like-for-like basis, marking the first year that like-for-likes had not increased.
However Worthington said the performance was "significantly better than the market".
He said the 271-store retailer experienced a "tightening up around the general election, with the talk of austerity measures", but benefited towards the end of the year as shoppers strove to beat the VAT increase.
Since the year-end Dreams has been "performing in line with plan" but Worthington said that the VAT rise in January "didn't help" sales. "We're cautious as there is so much uncertainty," he said.
He maintained that within the wider furniture sector, beds are more resilient than some categories. "People don't defer their purchases indefinitely," he said.
It is understood that Dreams see scope for 400 stores in the UK in the long term, but he declined to confirm that figure.
The retailer will open 18 to 20 stores this year after three years of opening 40 per year.
Dreams will instead focus on investing in existing stores and infrastructure. It will also continue to invest in training, which Worthington said has "paid dividends in the last year" by enabling improved communication with customers.
The retailer has been expanding into bedroom furniture to widen its appeal, and the category is now understood to account for between 7% and 8% of total sales.
Worthington said Dreams would not be straying from its core proposition, however.
Dreams has also shifted its advertising stance following customer research. It is now taking a two-pronged approach promoting quality as well as its traditional price message, and launched its new TV ad last week, focusing on "finding everyone their perfect bed".