The warm weather impacted the sales of winter products at department store John Lewis this week during the warmest Halloween on record.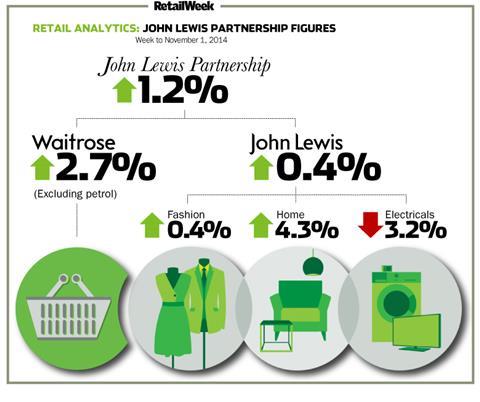 The retailer said that the 0.4% growth to £92.1m in the week to November 1 was "a solid performance".
However, sister grocer Waitrose said that Halloween sales excluding petrol advanced 2.7% to £125m over the week, against tough comparisons the year before.
Home was John Lewis's star performer as sales rose 4% on last year. Croft, its newest own brand, benefitted from its Christmas range and achieved its highest weekly sales of the year so far.
Furniture continued to drive home sales, up 14%, as customers prepare their homes for the festive season, with beds and bedroom furniture up 23%.
Fashion edged up 0.4% on last year despite the unseasonably warm weather, with lightweight pieces such as blazers proving popular. Nursery also continued to perform well, up 19% on last year.
Electrical and home technology dipped 3.2%, a reflection of the fact that this time last week the new iPad had just launched. However, there was strong performance from large electricals, up 9%, and audio and gaming, up 7%.
Christmas campaign
John Lewis buying director Christine Kasoulis said "As we move further into November and the weather inevitably turns colder, the demand for winter products will increase.
"With Monty and Mabel now revealed and Christmas decorating and gifting increasingly becoming front of mind for our customers, I hope you're as excited about the next couple of months as I am."
At Waitrose, Halloween sales surged 41% on last year making it the biggest seasonal occasion outside of Christmas.
Waitrose personnel director Helen Hyde said: "In addition to selling half a million pumpkins, we sold almost 40,000 magic wands this week. However, customers largely chose treats over tricks as cakes and confectionery had a great week."
Waitrose scary pumpkin cupcakes sales rocketed 100% on last year and Halloween confectionery sales jumped 12%. Haribo Trick or Treat Mini Mix sales leapt up by 67% and Swizzels Trick or Sweets by 35%.
Romance was also in the air during the scary week as bouquet sales grew by 70%, outselling cut flowers for the first time.
Elsewhere, the Barbarians taking on Australia in Rugby Union at Twickenham and Sunday afternoon's Manchester derby followed by the US Grand Prix gave sports fans an excuse to relax in front of the TV. Fresh pizza sales jumped by 33% and ready to cook dishes heated up by nearly 15%.