Sales at John Lewis department stores rose 11.8% to £76m in the week to June 20 as all its main departments performed well.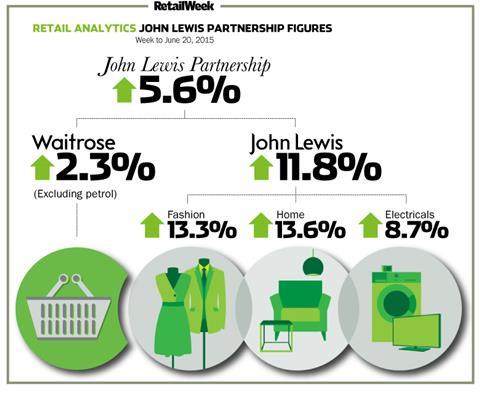 John Lewis reported fashion revenues up 13.3% year on year in the week to June 20.
Womenswear performed well but menswear, helped by Father's Day, delivered an "excellent week".
Sales of men's accessories climbed 61.8% and sports goods, including clothing, were ahead 17%.
The home category was up 13.6%, benefiting from the performance of special buy products, and electricals and home technology was ahead 8.7%.
Online sales climbed 22% over the week, while stores achieved an "impressive" 7.3% advance.
John Lewis fashion buying director Ed Connolly said: "With better momentum in trade this week, we are feeling confident as we approach our summer clearance."
Waitrose sales increase
Sales at grocery stablemate Waitrose rose 2.3% to £126.8m during the week in which it launched the Pick Your Own Offers scheme for myWaitrose loyalty scheme members.
Waitrose marketing director Rupert Thomas said: "The worldwide first, where we give our customers the power to pick 10 items they save money on every time they shop, has already been well received by shoppers as more and more customers continue to make their saving selections.
"Among the most popular choices from the list are Essential Waitrose bathroom tissues, Waitrose British blacktail free range eggs, Waitrose cherry vine tomatoes and Essential Waitrose British chicken breast fillets."