Sales at John Lewis department stores rose 4.5% to £68.8m last week despite some areas of the country being hit by snow.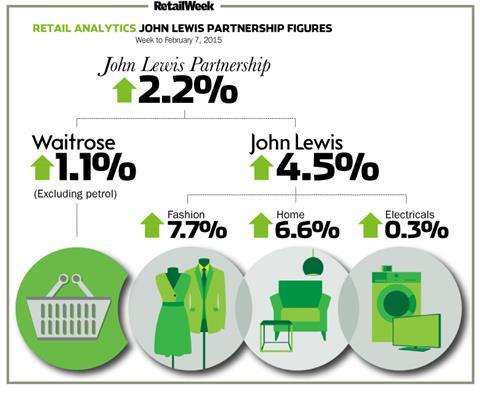 The retailer's omnichannel model enabled it to beat the associated disruption however, as shoppers went online.
Fashion sales climbed 7.7% in the week to February 7, the first in the retailer's new financial year. Childrenswear performed especially strongly.
Home category sales were 6.6% ahead, helped by the latest Fusion range, which was promoted on the front of the retailer's catalogue. Beds and bedroom furniture did well.
Sales of electricals and home technology items edged up 0.3%.
Online sales surged 18.6%, driven by demand for fashion.
John Lewis director of selling, North and new formats, Maggie Porteous said: The first week of the new financial year dawned cold across the country, with snow hitting a number of regions over the course of the week, causing minor disruption to trade in some of our shops. But that is where the strength of our omnichannel trade comes to the fore."
Sales at John Lewis Partnership stablemate Waitrose advanced 1.1% in the week to £119m.
Valentine's Day products were in demand. Sales of chocolate hearts rose 64% and Champagne was up 51%.