John Lewis sales jumped last week as the early launch of its summer Clearance offset the economic turmoil caused by the EU referendum.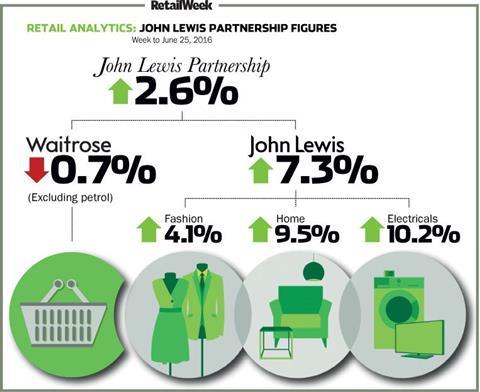 The department store chain reported a 7.3% increase in sales to £96.68m during the week ending June 25.
Electronics and home technology was the star performer for the week, as sales spiked 10.2%.
Sales in John Lewis's home category surged 9.5%, while fashion sales climbed 4.1%.
Communication technology led the way in the retailer's electricals and home technology category, as sales grew 19.3%, with TVs also selling well.
Outdoor living recorded a 9.7% sales uplift despite the unpredictable weather seen in some parts of the country.
Furniture sales rose 14.2%, with sales in beds and bedroom and living dining advancing 19.7% and 19.4% respectively.
However, sales at sister retailer Waitrose sales slipped 0.7% to £125.42m during the week to June 25.
The upmarket grocer attributed the dip in sales to a strong comparable week from 2015, which enjoyed warmer weather and featured higher advertising spend to promote the launch of its Pick Your Own Offers initiative.
A combination of the European Football Championship and England's rugby success in Australia helped drive a 9% increase in beer sales.
Waitrose added that its newly launched Omega 3 enriched chicken enjoyed "very strong" sales during the week and already accounts for 6% of the retailer's total poultry sales.