John Lewis sales increased 7.5% to £71.12m in the week to August 2 as shoppers flocked to its department stores for new season product.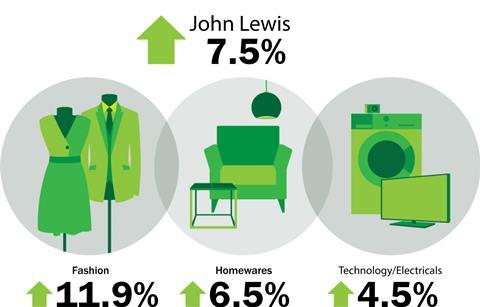 Fashion sales were up 11.9% as shoppers snapped up autumn lines, particularly in womenswear and premium beauty. Men's formalwear, jewellery and accessories also performed well.
In electricals and home technology sales were up 4.5% driven by audio and gaming. Refrigeration and fan products also sold well as customers tried to keep cool in the hot weather.
In home, sales increased 6.5% as the 'Any Shape, Any Fabric' offer in upholstery propelled demand. Beds also did well, up 25%.
John Lewis buying director for home Christine Kasoulis said that the Commonwealth Games, of which the department store group was a partner, inspired shoppers to buy sports gear, as sales jumped 32% last week.
High Wycombe topped John Lewis's shop performance medal table, delivering growth of 26%. Tunbridge Wells and Newbury took silver and bronze, Kasoulis said.
She added: "Overall it was a positive story for the first week of the half. The combination of new season products and partners who 'love to sell' gives great confidence for trading over the coming weeks and beyond."
Sister retailer Waitrose delivered a 6% sales rise to £118.94m despite trading against a strong week this time last year when the UK enjoyed its hottest day since 2003.
Last week strong promotional activity and continued warm weather meant shoppers bought light summer dishes, driving "fantastic sales of fish", according to David Jones, Waitrose's supply chain director.
Salmon sales rocketed 309%, while trout was up by 145%.
Horticulture sales jumped 19%, while sales of outdoor products increased 66%.
The final week of the Commonwealth Games also boosted Waitrose, where sales of ready meals were up 13%. The games, held in Glasgow, also drove sales of Scottish whisky.
Waitrose's success at the Nantwich International Cheese Awards last week has also helped sales, said Jones. Pre-packaged cheese sales were up 7% on last year, while service counter cheese increased by 10%.