John Lewis and Waitrose blamed a "demanding" week on tough comparatives due to the World Cup and Father's Day falling on a different week.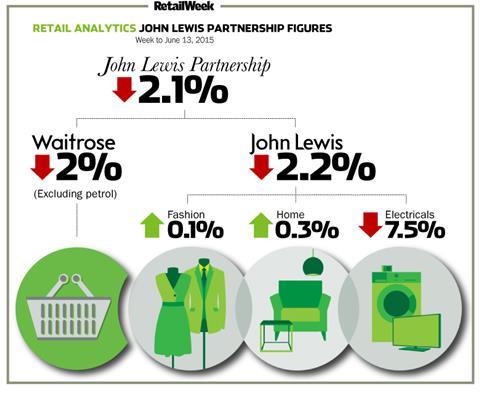 John Lewis sales dropped 2.2% to £70m for the week to June 13, while Waitrose sales fell 2% to £126m during the same period.
John Lewis director of selling Maggie Porteous said: "The fall of the calendar can sometimes have an impact on our sales figures and that was certainly the case last week."
Electricals had a "tougher" week because last year John Lewis experienced exceptional increases of television sales as customers bought new screens for the World Cup.
John Lewis hopes its gifting and menswear will come to the fore this week as customers buy gifts for Father's Day.
Waitrose said that it was affected this year by the lack of the men's World Cup and added it was also hit by the poorer weather, which meant customers opted for roast dinners rather than BBQs.
Frozen Yorkshire puddings and vegetables recorded strong sales, up by 17% and 24% respectively.
Despite John Lewis attributing its sales dip to Father's Day falling on a different week this year, Waitrose posted a 4% increase in sales of Father's Day cards year on year.