Sales at John Lewis edged up last week driven by "healthy" performance in its ecommerce operation and homewares division.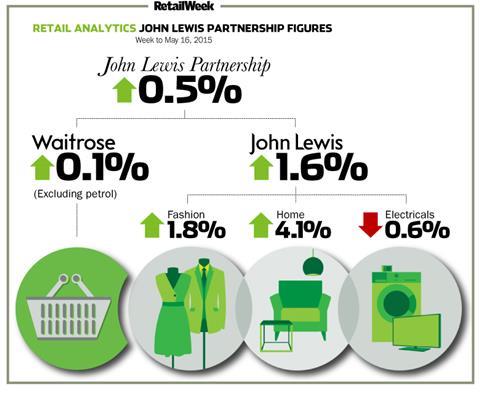 John Lewis sales up 1.6% driven by online and homewares
Bosses say its is "well placed" for bank holiday weekend
Waitrose sales remain flat
The department store group's total sales were up 1.6% to £70.32m for the week ending May 16, as online jumped 12.1% year on year.
Homewares also performed well, with home accessories and gifts growing 9.8%, while the wider home category saw sales rise 4.1%. Home and gift collections and outdoor living continued to perform well, as sales jumped 12.8%.
John Lewis said spring cleaning was becoming a focus for its customers as sales of utility items rose 11.7% during the week.
Fashion edged up 1.8% driven by a 21.8% surge in men's branded casual wear and an 11.7% increase in menswear and sports sales. Shoes also saw growth of 13.3%.
John Lewis director of selling for London and the South David Barford said the retailer was "well placed to optimise customer experience opportunities across all of our shopping channels" ahead of the bank holiday weekend.
Sales at Waitrose remained flat, with total sales excluding petrol edging up 0.1% for the week ending May 16.
Bosses at the grocer said customers were moving towards a "grow your own" fruit and vegetables mentality, with the range of outdoor plants stocked in store rising by more than 100% on last year.
Waitrose saw its food-to-go range perform strongly again, driven by warmer weather prompting customers to eat outside. Sandwich sales rose 11%, salads were up 24% and sales of snacks grew 49%.
Wine sales also surged 80% on the year as customers stocked up their larders ahead of English Wine Week, which starts on Saturday.