Only a third of the UK's largest retailers generated earnings growth in their last financial year, according to new Retail Week research.
The findings reflect the challenges of today's market as retailers face rising costs associated with tech investments, people, property and sourcing in light of Brexit.
Money Makers: The top 20 retailers driving profits and their winning strategies found that just 60 of the UK's top 180 retailers covered by Retail Week Prospect enjoyed profit growth in the latest financial year.
Our report examines the top 20 – the only retailers to generate double-digit increases in profits – to uncover what lessons retailers can learn to protect their bottom line while at the same time investing in digital transformation.
Using exclusive research from our in-house team of analysts, Retail Week Prospect, the report brings into stark focus the impact of fierce competition, economic uncertainty, rising operational costs and technological disruption.
The top five retailers driving profits

Staying agile and making bold cuts
The top five retailers driving profit growth are Apple, Lush, Matchesfashion.com, Waterstones and Harrods. This eclectic mix demonstrates that growing profits is not tied to one business model and that there is no singular approach being adopted.
For instance, electricals giant Apple refreshed its store estate rather than overinvesting in new stores, while cosmetics retailer Lush's vertically integrated model allows it rigid control over sourcing and product development.
Others in the ranking have been bold when it comes to cost-cutting in order to protect profits and drive efficiencies.
Tesco, ranked ninth, closed its non-food Tesco Direct website in 2018, citing "no route to profitability". Although actioned after the financial year examined in this report, it is a good example of retailers making bold decisions in the fight to protect their bottom lines. The grocery giant also made significant job cuts and focused on increasing its share of freehold property to reduce its rent bill.
Supply chain efficiency and tech investment
Meanwhile, Waterstones ensured its products catered to local areas, therefore reducing returns, and promoted higher-margin goods.
Interestingly, Pureplays are underrepresented in our ranking, with only three making the grade. The need to invest in technology that supports digitally led customer experiences can weigh heavily on margins in the short to medium term.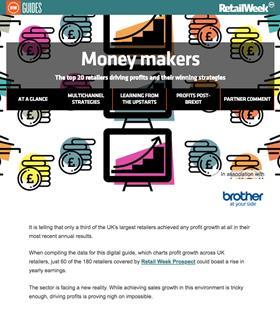 To find out more, register to read our free report today and discover:
Winning strategies of retailers driving profit growth
How digital marketing is driving low-cost customer lifetime value
Tactics on reducing profit-sapping returns
Why partnering with overseas marketplaces is cost-effective
* Methodology: Retailers were ranked based on operating profit figures – UK focused where available and otherwise group operating figures – from the latest posted data as of July 2018.
The ranking is based on profit growth rather than absolute earnings in pounds in order to provide useful takeaways from retailers of all sizes.

As a member of the multinational Brother Group, Brother UK is a supplier of technology solutions, helping businesses deliver greater productivity and efficiency through documentation, digitisation, collaboration and mobile work solutions.