DIY retailer B&Q aims for its Christmas campaign to motivate consumers to decorate their homes in bigger and better ways.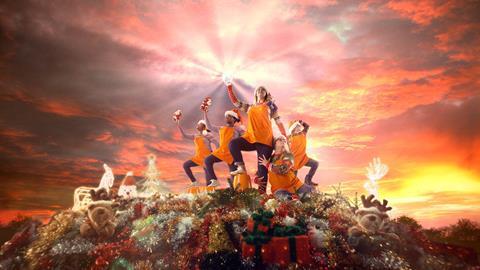 The campaign features "everyday heroes" whose clothes suddenly fly off to reveal an orange apron as they strike the "B&Q pose" on top of an orange bucket, whenever the song 'I've got the Power' is played.
The ad is a continuation of B&Q's Unleash series of ads and was created by WCRS.
The campaign will be supported by another ad encouraging viewers to take part in the Big Switch On – a digital campaign encouraging Brits to switch on their lights on December 6.
B&Q customer and marketing director Chris Moss said: "Christmas is that one fabulous, frivolous, fun-filled time of the year when we relish turning our homes into glittering grottos with trees, lights and decorations.
"That's why the new B&Q campaign sets out to 'unleash' the Christmas spirit for us all by showing how homes can be transformed and set the scene for families, friends and fun, and even make room for some strangely dressed creatures happy to join in to sing, dance and be merry with us.
"Decorating our homes at Christmas is both heart-warming and traditional, but also gives us every reason to be just plain silly, experimental and indulge in novel ways to make the most of this special time of the year.
"B&Q's campaign aims to bring all that to life to make this Christmas truly memorable for everyone."