The hardware retailer has a new owner and is now debt free but profit margins need to improve.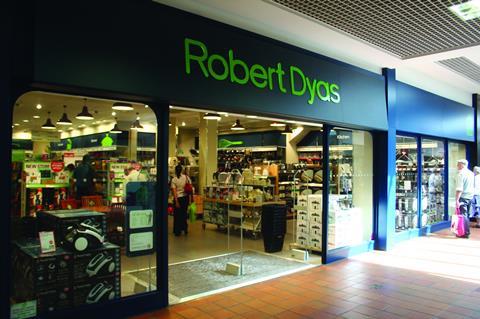 Hardware retailer Robert Dyas was bought in July by Theo Paphitis, the Dragons' Den star and owner of stationery business Ryman and lingerie retailer Boux Avenue.
Last month Robert Dyas revealed improved annual results. The previous year's sales decline was reversed in the year to March 31, when revenues increased by 2.2% to £105.9m and like-for-like sales rose by 3.3%, bolstered by a strong performance over Christmas and a 28% surge in online sales.
However, margins were tighter and operating profit after exceptionals fell to £500,000 from £2.3m. Operating margin was down from 2.2% to 0.5%.
That narrowing, and a difficult retail market, are among challenges the retailer must confront.
Dyas sells products including homewares, ironmongery, garden items, hand and power tools, small domestic electrical appliances and DIY products, with an emphasis on convenience and meeting local customer requirements.
Paphitis has said he does not intend to make big changes to the product range and instead aims to build on the convenience appeal of the retailer's high street stores to improve overall performance.
The current direction of Robert Dyas was shaped by a three-year strategy launched by then new chief executive Steven Round in April 2009, following a management buyout.
The strategy involved an effort to attract more regular customers rather than one-off visitors, as promotions reportedly accounted for roughly 20% of sales at the time.
It also included the introduction of new product categories such as shoe cleaning and haberdashery, while the own brand-range was extended.
With an updated product offer, Dyas' approach was and continues to be to target a younger market of middle-class home owners in their 30s, as well as its original core over-50s customer base.
During 2009, a new store format was introduced in Maidenhead, which featured a different logo, navigational graphics and an improved layout.
The model has served as a blueprint for new shops and elements of the design have been adopted in refurbishments of existing stores – 19 have been updated since then. Dyas has also installed internet kiosks and web browsers in about a third of its stores.
The retailer's store portfolio totalled 108 sites at the end of 2010, but that number has since been reduced to 96.
At present around a third of the portfolio is within the M25, including 15 shops in central London. Last year there were closures in Southampton, Reading, Boscombe and Cheltenham.
In February 2011, the retailer unexpectedly revealed that Round had resigned and news followed later that year that shareholder backers Lloyds Banking Group and Allied Irish Bank had put Robert Dyas up for sale, potentially valuing the retailer at £25m.
Several interested parties had been linked to Robert Dyas, including Wilkinson, but Paphitis' Gladys Emmanuel vehicle acquired it for an "undisclosed sum". However, the deal was reported to have been valued at about £10m.
Following the acquisition - which left the retailer debt-free - Paphitis became chairman, replacing Geoff Brady. Chief executive Graham Coles remained in his role.
Robert Dyas maintained sales momentum in the first quarter of its current financial year, when like-for-likes moved ahead by 0.9%. Overall, in the current year to date, like-for-likes are up 3.7%.
However, the housing market - an important driver of sales in the household goods and DIY sectors - remains weak, as a result of squeezed disposable incomes, fears about unemployment and a weak UK economy.
But with more investment planned by Paphitis, the business will be in a strong position to sustain the recent upturn in like-for-like sales and continue with the refurbishment programme.
His and his team's extensive retail experience will also be key in boosting Robert Dyas, which is set to benefit from synergies across the Ryman business.
He will also want to improve the retailer's profit margin, which Retail Week Knowledge Bank describes as having been "modest" in recent years, despite improvements to the supply chain and a new range of own-label small electrical appliances.
Tools for the job
Sales for the year ended March 31 £105.9m
Sales change +2.2%
Like-for-likes +3.3%
Operating margin 0.5%
Pre-tax profits £186,000
Number of employees 1,233
Chief executive Graham Coles
Chairman Theo Paphitis