Game has landed an exclusive deal with Microsoft to sell its digital-only Xbox games. But is it adapting fast enough to cope with the digital revolution?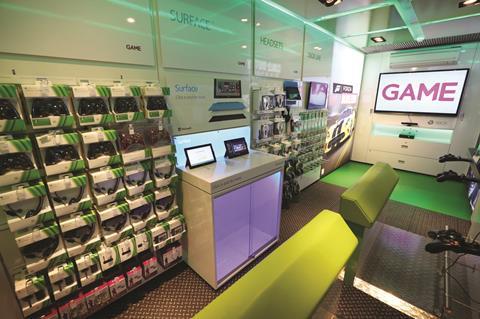 From this week consumers will be able to buy the digital-only games 'State of Decay' and 'Banjo-Kazooie' from Game after the retailer negotiated a deal with Microsoft that will make it the US giant's exclusive retail partner in the UK.
Consumers can buy a code for the games in-store and then use the code to download them on Xbox consoles.
Game already sells such codes for PlayStation games and the digital-only games can also be bought directly from the console manufacturers.
Consumers benefit from buying the codes from Game because it means they can pay for them in cash, trade-in old products in exchange for the codes, or claim the codes as part of Game's reward scheme.
Digital wallet
Game chief executive Martyn Gibbs tells Retail Week that digital-only games will be key to its strategy over the next three to five years.
He also cites the company's Game Wallet, a virtual wallet that allows customers to combine reward card points with gift cards to generate a QR code that can be scanned at checkout, as a big focus.
The retailer is also piloting integration of the virtual wallet into publishers' websites as part of a trial with flight simulation publisher Just Flight.
The pilot scheme allows Game shoppers to buy products directly from the Just Flight website using the Game Wallet instead of a debit or credit card.
Game is also moving fast to adapt to the take-up of mobile games such as 'Candy Crush' and is cashing in on the mobile sector by allowing customers to trade-in smartphones and tablets, which Game cleans up before selling on.
Game sells new mobile devices in branches of its Spanish operation and Gibbs hints this proposition may be brought to the UK.
He says: "There's a lot of opportunities for cross-fertilisation between Spain and the UK, we are sharing across the two territories the best commercial ideas."
Ahead of the curve?
Peel Hunt analyst John Stevenson argues it is only a matter of time before all computer games become digital-only as gaming follows the music market, which is now dominated by streaming.
Although Stevenson believes it will not happen in the next six months, he predicts it is inevitable and when it does happen the market will be controlled by the console owners.
He says there is no doubt the market is going to be digital and "Game has to get itself into a position where it is central to that".
Does he think Game can do it?
"Never say never but I am slightly sceptical because the content is owned by the major players so it will be very difficult for them," says Stevenson. "Absolutely they are doing the right thing but ultimately as long as Microsoft and Sony control the portal they will want to control the data and the payment."
Xbox xmas
Game will continue to make hay while the sun shines and Stevenson says Game will be one of the big winners this Christmas.
It has already posted a like-for-likes sales increase of 30% in the 52 weeks to July 26 and will continue to cash in on the launch of the Xbox One and the PlayStation 4 by making big margins on software sales.
Stevenson predicts Game is poised for another lucrative two to three years as it cashes in on the sales generated by games for the new consoles, but once this comes to an end it will have to be prepared for the next generation of gaming.
Game is on the right track with its virtual wallet and focus on smartphone devices and digital-only products, but the question is whether it can move fast enough to make sure it is ship-shape for the upcoming tide change.
It will have a lot of cash to invest after its float. The question is whether it invests it in the right areas. The early signs are Gibbs and his team will - but only time will tell.