Latest news, insight and analysis on Carrefour
Over the past 40 years, the Carrefour group has grown to become one of the world's leading distribution groups. The world's second-largest retailer and the largest in Europe, the group currently operates four grocery store formats: hypermarkets, supermarkets, cash & carry and convenience stores. The Carrefour group currently has over 9,500 stores, either company-operated or franchises.
Carrefour's first-quarter results posted same-store growth in Spain, suggesting internal reforms and external factors are taking effect.
There's a lot more to success in the world of cut-price fashion than cheap clothing. The store environment needs to be up to scratch as well.
Full company profiles for the top 200 UK retailers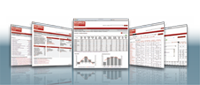 Powered by:

pause slideshow

Previous

Next