Trading at value department store group Original Factory Shop has improved in the new financial year, but chief executive Angela Spindler said retail conditions remain tough.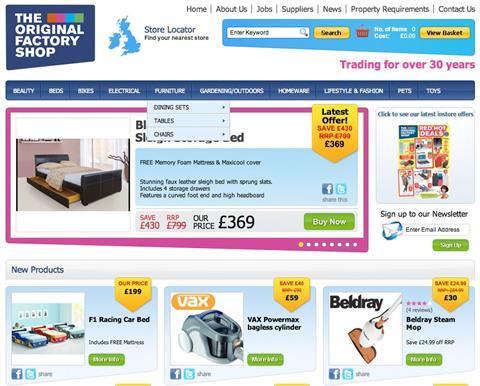 EBITDA at the retailer edged down from £14.9m to £13.3m in the year to March 27. Spindler said that conditions had been tough between January and March, as shoppers were hit by the VAT rise and other pressure on their pockets such as changes to family credits.
But since then, and particularly during April when Original Factory Shop benefited from the timing of Easter, business has been better.
Spindler sees little sign yet of any fundamental improvement in consumer confidence, however. She said: "I think there's a way to go. Retailers need to help themselves and manage the offer to respond to how consumers are thinking."
Original Factory Shop has benefited since the year-end from the full launch of its transactional website, which has beaten expectations and become the retailer's biggest store, she claimed.
The website has enabled Original Factory Shop to extend its offer, particularly in bulky goods such as beds and garden furniture for which there is insufficient space in store. In-store ordering by staff on customers' behalf has proved popular, Spindler said.
Original Factory Shop's sales rose 16.4% to £158m in the period when like-for-likes edged down 0.8%.
During the year, the retailer opened 31 stores, with a capital investment of £4.7m, rolled out an EPoS system, expanded its warehouse and launched a transactional website.
Spindler described last year as "challenging" but maintained: "We achieved a credible result and made significant progress in developing the business."
The retailer, owned by Duke Street Capital, opened seven new shops since the year end and now has 170 altogether, many in rural locations such as market towns. Potential has been identified for an eventual 500 shops.