Nothing beats learning the retail ropes on the shopfloor, but learning the theory can help day-to-day managing and further a career, says Sara McCorquodale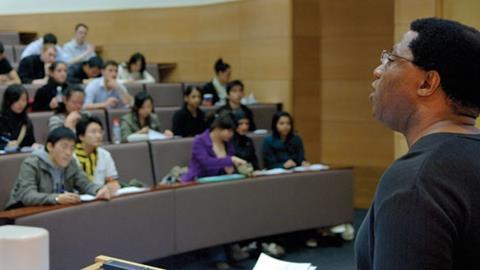 When Emily Cooper was 20 years old she was an assistant manager in Peacocks dreaming of promotion. Ambitious and dedicated, Cooper, from Warrington, decided she needed more than shopfloor experience to get a position in head office.
She enrolled at Manchester Metropolitan University to do a degree in Retail Marketing. Three years on, with a year's placement at Aldi under her belt, the 23-year-old is penning her dissertation and looking forward to graduating next year.
"I want a career in retail, not just a job," she says. "When I graduate I'd like to work in a retailer's head office. Hopefully I'll be able to go back to Aldi as a graduate area manager."
The relationship between academia and retail is one that has become increasingly robust over the past two decades. Across the UK, there are now dozens of undergraduate and postgraduate courses focusing on the theory that helps people manage and move the industry forward. Undoubtedly, the importance of day-to-day shopfloor grind cannot be denied in terms of experience. But to have studied areas from leadership to logistics is regarded as a much-welcomed feather in the cap of anyone aspiring to a senior management position.
Stirling University professor of retail management Dr Paul Freathy believes the increased relevance of having an academic qualification is not surprising. He says: "I've been working in this area for 20 years and we've seen a lot of changes. Retailers have got bigger, more complex and have moved beyond national borders.
"The increase in academic courses focusing on retail is a sign of the times. These are not simple organisations to run, in retailing things change so quickly and the industry needs educated professionals to keep up with its dynamism."
He adds: "The people we focus on tend to be middle managers. Retail has become highly centralised and people can become very specialised, but it's important to know how the business operates as a whole, you can't become too specialised. Also, as people move up the corporate ladder you need to be able to converse comfortably on every level. It's very important these days."
Jonathan Reynolds, academic director of Oxford University's Institute of Retail Management, agrees that the growth of retail academia is a knock-on effect of a changing sector. He says: "The professional approach to the retail industry shows that as a business it has become more formally organised. These are very large organisations that need excellent management."
He adds: "However, it's important to point out they still need people who have nous and instinct for retailing and a sense of customer service. To these people, we provide the management skills they need."
The majority of business courses cover management theory on every aspect of the industry. The aim is to provide students with the information and confidence to move upwards through a combination of study, presentation and practical experience.
The number of places on retail management courses tends to be limited — particularly at MBA level. Lecturers and tutors aim to give students a group and one-to-one experience that results in them being better equipped to take on a promotion, and a boardroom of senior managers.
On the syllabus
Manchester Metropolitan University (MMU) senior learning and teaching fellow in retail John Pal says: "We look at retail operations, general business skills, personnel skills and marketing. Understanding the consumer is also very important and we focus on that too. Hot topics at the moment on our course are understanding internet retailing and also ethical and sustainable retailing."
As well as undergraduate and postgraduate courses, the retail department at MMU provides a foundation course in retail in coalition with Tesco for a selection of the supermarket chain's employees.
Pal thinks working with a major retailer ensures that the curriculum addresses the latest industry issues. "Having a company like Tesco involved is really good for the course as it keeps us up to date with what's happening in the industry," he says. "We have lots of guest speakers and this ensures the issues we look at are relevant."
Tesco head of resourcing Lorna Bryson explains why the company has invested in retail academia. She says: "Education is important to Tesco. When we invest in our people we get a lifetime of loyalty. The foundation course at MMU is a tough two years but we want to give colleagues the skills they need to move into seniormanagement. We want to get the right calibre of management and we're strong on talent planning."
Freathy believes the increased confidence that graduates gain from further education can also help them progress after completing retail-focused study. While many will have the intelligence and natural flair to gain a promoted post, they may not have the self-assurance and poise to fulfil such a position. He says: "Doing the course benefits soft skills and students need these as well as the practical experience and the theory. They do presentations where they have to speak in front of a room full of people and get used to working against the clock."
Freathy continues: "Soft skills are hard to quantify but they give our students the confidence they need to speak to and present to senior managers. Some of them may have not written an essay or spoken in front of a room of people since they were in high school."
Invaluable lessons
While some industry stalwarts may baulk at the idea that a person can learn the industry anywhere other than the shopfloor, Cooper says theory she learned in the classroom was invaluable while on placement at Aldi. "I worked in different areas across the company," she says. "I was in head office working in trading, property and accounts. I also spent time in administration and logistics. When I was in Aldi's warehouse I could see how studying logistics was relevant and the things I had learned at university really helped me do my job."
The benefits of studying retail seem to be valuable in terms of progression, but who are the universities looking for to fill up their classrooms? Many may think without prior qualifications, they would not be eligible to study at university level. Freathy says Stirling applicants range from people with a first degree who graduated three to five years previously, to those who have worked in retail since their teens.
He says: "If someone has been responsible for stores for 10 years we think they should still apply. People who went into retail straight after leaving school have something to bring to the discussion."
He adds: "A lot of our students have aspirations within their current organisation. Nobody would ever say that having an MBA guarantees success but I think the students get a lot out of it and it's something they can bring to the table in the business they work for and at future interviews."
MMU has a broad range of people applying, from the ambitious managers of the future like Cooper, to those working in retail who want to progress. And, if the success of past graduates is anything to go by, the combination of ambition and education has been a good one. Pal says: "We have a good record of students doing well after they have graduated. They go on to places like Asda and Co-operative Group. We also have some very enterprising students who set up their own online retailing businesses. This year the number of applicants to our course just about doubled."
Oxford also has a broad range of applicants, with some people having a background in a different industry. Regardless of their previous work experience, Reynolds ensures they are aware of the realities of retail.
"All students have a high degree of ambition and in many ways our job is to manage that," he says. "We make it clear they will have to spend time on the shopfloor to better understand how the business works.
"The people who come to us to do their MBA usually have five or six years of work experience but it's not always directly in a retailing practice. Sometimes they will have worked in businesses that dealt with retailers. We also get people who have grown up in retail but still decide to do our course. Businessmen from the industry like Ben Gordon, chief executive of Mothercare, and Ian Cheshire, chief executive of Kingfisher, work with students."
He adds that alumni have gone on to hold positions at retailers such as eBay, Argos and Tesco.
Reynolds' strategy of making students aware of the gritty side of retail is crucial - can someone really manage in retail if they haven't worked in a store or dealt with an unsatisfied customer? It is probably not wise. But while a retail qualification does not guarantee a senior job, but it does prepare employees for both the practical and intellectual rigours of the fast-moving sector.