The music business' response to the challenges posed by the digital revolution offers useful lessons for retailers.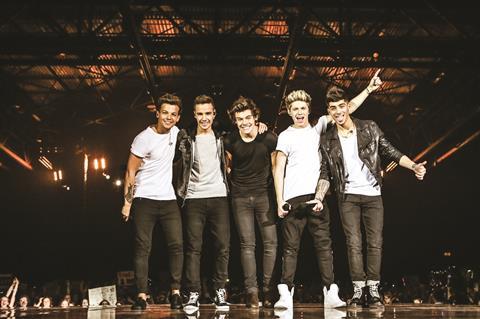 You might not think, at first glance, that One Direction's teenage fans have much in common with the average supermarket shopper. But the music and retail industries are in fact facing a range of similar problems.
While retailers have been busy dealing with Amazon and other etail leaders, the music business has faced innovations such as iTunes, Spotify and the problem of illegal downloading. Its response is illuminating.
The digital revolution hit the music business harder and faster than almost any other sector and as a result it's now teeming with ideas about how to react. The industry has had to rethink how it makes money, and much of its response has focused heavily on how it markets products.
Argos digital director Bertrand Bodson is a former executive vice-president for global digital at EMI Music. He says: "Needing to sell at a low price point (a track for 99p) has forced the music industry to think about reinventing itself fast and come up with creative revenue sources such as brand partnerships, licensing deals, sticky loyalty schemes, customer experiences, creative gift cards, 'streams' sold at a fraction [of the cost] of tracks but at very high volume, virtual gigs, or even virtual goods."
Dino Myers Lamptey, head of strategy at media agency The7stars, which managed the recent campaign for Daft Punk's new album, says the tide is finally beginning to turn. "In recent years, marketers in the music industry have gone beyond accepting their fate and have begun to rewrite the rules on how the industry operates and communicates, and sales have finally begun to rise once more," he says.
That was recently demonstrated by the furore surrounding the release of the One Direction film 1D: This is Us, a feature-length movie about the boy band that shot to fame after appearing on The X-Factor.
For an act that began as an X-Factor loser - they came third in 2010 - One Direction have amassed quite a following.
Between them they have close to 25 million followers on Twitter and they have even managed to crack America. The extent of their popularity was particularly clear on the night of the film premiere, when 70,000 fans turned Leicester Square into a makeshift campsite.
So how did the marketing machine surrounding One Direction achieve this? Mark Hardy, a former Syco/Sony Music Entertainment marketing director, says there was a carefully planned strategy: "The essence of the strategy was not to position One Direction as demigods, but as 'my mate' the girls could have access to 24/7." The boys underwent extensive social media training and the fans - or 'Directioners' - were routinely asked to make decisions for them, such as what they should wear. Hardy says it was all about interaction and collaboration and "making the boys feel really accessible".
Find discovery channels
Tim Clark, who manages performers such as Robbie Williams, says the high street would do well to look at the increasing importance of digital marketing techniques and to make use of platforms such as YouTube. He says: "YouTube is the discovery channel in the music industry now. You can create little viral campaigns, sharp little films for instance. These are the sorts of things retail should be looking at. What artists do is a lot of viral campaigning with videos."
But he observes that success often boils down to the strength of the product. He says, for instance, that Daft Punk's recent success with Random Access Memories, which became the fastest-selling album of the year, was down almost entirely to a "brilliant" song - the group's summer hit Get Lucky.
"You need a great product," he says. "Apple has proved that and great artists do too. And Apple's stores are an example to the rest of the retail world in how to get people excited about new products."
But Myers Lamptey argues that the success of Daft Punk's album wasn't all down to the strength of the product.
The agency used seeding, a marketing term for carefully choosing media adverts that create a specific impact. In this case, the agency wanted to create a sense of mystery. "The campaign was quite detailed," he says. "We didn't have a massive budget but we did some calculated seeding, 10 weeks before [the album release date] as opposed to the usual two to four weeks before."
He explains that the aim was to create a viral campaign that would take fans on a "cryptic" journey of exclusive content discovery in the run-up to the album's release. He thinks that the music industry is more experimental than it was. "Music is better at taking risks [than retail], not so precious. Over the past few years the industry has been forced to accept things like Spotify which affect existing models."
Retailers struggling in the face of digital growth and showrooming should take note. Adam Graham, chief executive of creative agency Weapon7, points out that, although the ultimate purchase may not be made in the bricks-and-mortar store, "it's still a massive advantage and should be viewed as an opportunity to build an emotional connection".
Some have done this well, he says, again mentioning Apple.
Get to know your customers
But Graham believes others have either gone too far or done too little in terms of store experience. "Burberry I'd say is too 'out there' and doesn't offer a useful customer experience," he argues. "It's difficult to get what you want despite the iPads and the big screens, which actually get in the way. And yet Burberry is in stark contrast to places like Argos, where the store experience is less than warm." What retailers need is something between the two, he advises.
Mark Uttley, director of research, multimedia, at Bloomberg in New York and a former vice-president of insight for Sony Music International, says a key lesson for retailers to take from the music industry is to hone an instinct for what makes consumers tick. "Many retailers get stuck in the weeds, they get stuck in units," he says. "What Sony Music did well was to get to know the fans and to get a feel for who they are. Insight was part of the culture, not a heavily numerical thing."
He says that Topshop does this well too. "You get a sense that it knows who its customers are and that it is moving beyond the numbers."
He advises retailers to think of shoppers as fans, and says music does a good job of offering gradation of products according to level of involvement, which means the creation of exclusives or special editions for the most passionate fans. He says retail marketing communications can lack the sense of authenticity or connection that they have in the music world, and warns that communications in retail can be ham-fisted in execution.
An intuitive approach, added value, alternative streams of revenue and meticulous execution - the music industry has learnt a lot over the past few years, and much of it is applicable to retail.
Retail's Lessons from music marketing
Think beyond existing business models. Bertrand Bodson, digital director at Argos, says it took the music industry "a very long time to accept that the world had changed".
Make use of video to produce interesting, relevant and useful content. Adam Graham, chief executive of agency Weapon7, says that most retailers still don't understand how to use video effectively.
Don't overlook the importance of the 'live' store experience, nor of the product itself. "Apple offers that live, experiential feel. It's about freeing up the stores to be fun," says Mark Uttley, former vice-president of insight for Sony Music International.
Ensure communications feel authentic. Jon Stanesby, director of strategic services EMEA at marketing cloud software and services company Responsys, says that New Look is using Twitter to talk about industry news and to comment on events in a 'human' way. "It's accepted that a brand tries to sell, but that shouldn't be what the communication is all about," he says.
Consider fuelling demand with one-off, time-limited or exclusive deals. Dino Myers Lamptey, head of strategy at media agency The7stars, says fans and consumers enjoy being the first to find, receive, and share content.