Retail Week's latest report showcases the businesses driving traffic in the crowded ecommerce market and reveals key insights for maximising customer retention.
Next, Tesco, Currys and eBay are among the most-visited retail websites of the past year, according to Retail Week's latest report.
Ecommerce 2022 offers four key lessons to approach the new world of ecommerce and shows how leading retailers are embracing the rapid flight to online and designing their business models to meet the digital revolution head-on.
1. Invest in omnichannel
Firstly, omnichannel is proving itself to be the winning model. As Alex Baldock, the boss of Currys, which ranked sixth, says: "It had the mother of all stress tests over the last couple of years and it came through it."
Digital customer service has been a key focus for the retailer: at the start of the pandemic, Currys launched its ShopLive service, which connects customers digitally to store staff.
Retailers such as Tesco (number five on our ranking) and Asda (number seven) have responded by ramping up online capacity and working through new ways to pick, pack and fulfil online orders.
Even as store shopping climbs back to pre-pandemic levels, omnichannel is here to stay for the leaders on our list.
2. Double down on tech infrastructure
Secondly, find ways to invest in the infrastructure needed. Next, for example – fourth on our list – has prioritised investment in ecommerce, IT and supply chain systems to become the go-to for clothing and homeware.
Online leaders cannot afford to stand still. On an annual basis Amazon, for example, typically invests 40% of capital expenditure on infrastructure, 30% on adding fulfilment capacity, 25% on transportation and 5% on offices and stores.
3. Collaborate to streamline supply chains
Thirdly, remember the importance of keeping up with innovation in logistics. EBay, for instance – number two on our list – recently began the rollout of eBay fulfilment by Orange Connex, its first end-to-end fulfilment service for UK sellers with faster delivery options, improved logistics management and more streamlined processes.
Across the board, those in our top 50 are continually investing in this area and partnering with suppliers to improve services.
4. Make data pay
Finally, prioritise the use of data. In the grocery sector, Tesco is looking to make the huge amount of data it collects from its 20 million Clubcard customers work harder for the business as well as third parties.
Going forwards, Tesco plans to use this competitive advantage to provide a much richer customer experience, personalising the offer to a much greater degree – including the way in which shoppers earn and use the rewards they accumulate – and responding to their changing needs in real time.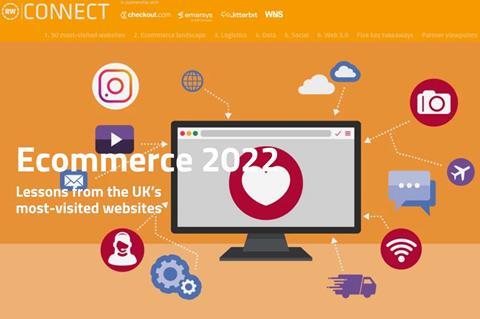 Ecommerce 2022 offers a blueprint for successful ecommerce trading today, shaped by those who are getting it right.
Access the report here for free to read more about how the UK's most-visited websites are pushing the boundaries of ecommerce and responding to ever-changing customer demands. You will also learn:
Why online sales are predicted to grow by 8.9% in 2022
The social platforms showing the most promise and retailers' most creative approaches to the channel
The retailers creating immersive virtual experiences as web 3.0 develops
Year-on-year website visits comparison data for 2020 and 2019