Retailers and tech start-ups will join together for the 24-hour Tech Sprint event to develop solutions around fulfilment.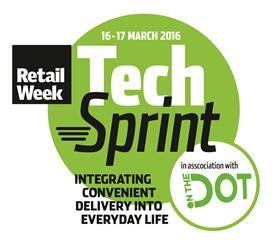 The Retail Week Tech Sprint event, in association with delivery firm On The Dot, will be held alongside Retail Week Live on March 16 and 17 at the Intercontinental London, The O2. The event will bring together retailers and tech start-ups over a fast and furious 24 hours to develop solutions to industry pain points.
"It is an opportunity for the whole retail industry to participate in and to benefit from fresh ways of thinking and the creation of products that can click with consumers and bring competitive advantage," notes Chris Brook-Carter, editor-in-chief at Retail Week.
The theme for the inaugural Tech Sprint is to build a solution that integrates convenient delivery into consumers' everyday lives.
Delivery is an innovative space in retail, a big factor in customer experience and a real competitive advantage for retailers.
The rise of drone technology, crowd-sourced delivery, click-and-collect and one-hour fulfilment are all examples of how retailers are innovating around delivery.
What is a Tech Sprint?
Traditionally a Tech Sprint is an event where a large number of people meet to engage in collaborative coding in the technology space over a short period of time. Recently, innovative retailers have been hosting internal sprints as a way to encourage collaborative innovation and generate the green shoots of digital ideas that will drive future revenue and profit growth.
Who can enter?
All retailers and start-ups. The teams can be a minimum of three and maximum of five. We encourage teams from cross-disciplines, but we do specify each team should have at least one person who has coding skills and is able to work with data sets. At least one member of a team should have pitching and presentation skills.
How to enter?
First put together a team
Each team can be a mixture of disciplines such as technology, marketing, product or user experience
Teams must be three to five people
Ensure one person can comfortably pitch the idea on stage
All entries must be submitted by February 11.
You can enter by clicking here
What happens on the day?
Upon arrival entrants will have the chance to meet the other teams, judges and facilitators before being briefed on the topic and the structure of the following 24 hours.
On March 17, all teams will be invited to pitch their ideas to the judging panel, each lasting three minutes with two minutes of Q&A.
The top three ideas will be invited to present their demo on stage and the winning team will then be announced on stage and be awarded their trophy by the head judge and feature in Retail Week in print and online.