PAID FOR POST
The Hermes Supply Chain Blog on Retail Week
When KFC inked a new supply chain deal last October, new partner DHL vowed to "rewrite the rule book and set a new benchmark" in food delivery.
Never has a truer word been spoken.
DHL and food service specialist QSL jointly took over the KFC supply contract on Valentine's Day. However, Cupid's arrow quickly misfired.
Just two days later, KFC was forced to close the doors of some of its restaurants due to delays in delivering fresh chicken. By 18 February – just four days into the supply contract – 646 of KFC's 900 stores were shuttered.
Due diligence and risk management
On paper, partnering with DHL and QSL seemed like a safe bet. KFC had worked with QSL, which specialises in foodservice in Europe; and DHL is the world's largest logistics firm. This equalled a dream team, surely? Specialist knowledge plus unrivalled scale?
Delivering fresh food is a tricky business. In KFC's case, there is just a few days in which the chicken order it receives in its warehouse has to be shipped to its stores, prepared and sold. There is little room for error and a true specialist is needed to manage this supply chain.
Trade union GMB claims it warned KFC it would face supply problems by moving from previous supply partner Bidvest to DHL.
DHL may have partnered with a food specialist in QSL but these are new partners and a new system. Inevitably plugging together new software, technologies and processes can lead to teething problems. Were these potential risks properly managed?
Would a phased introduction of DHL and QSL working alongside Bidvest have been feasible?
Don't put your eggs in one basket
Experts have suggested that the cause of the disruption comes down to the fact that DHL operates from one centralised warehouse, while KFC's previous contractor Bidvest is operated from six locations.
Serving 900 sites from one warehouse is a big undertaking and if something goes wrong at that warehouse, there is very little room for contingency plans.
"But while it's supply chain cock-up may have left customers angry, it's PR response got them smiling again"
In retail, distributed warehousing is becoming increasingly popular. Retailers such as Amazon and Argos have opened many warehouses and hubs closer to the customer to enable faster deliveries. This also gives them options if one of their distribution centre is taken out of action.
In a week where the Beast from the East caused disruption on the nation's road network, we can all see the benefit of this.
Start-up stars
It's interesting to look into how KFC helped solved its chicken crisis. The fast-food restaurant turned to Stowga, a warehouse on-demand start-up service (think Airbnb for warehouses).
Stowga was contacted by KFC's property consultants who needed to find warehouse space up and down the country at short notice. The online warehouse marketplace had secured bids for KFC within minutes, eight of which the fast-food restaurant signed for, and within days these sites were operational.
Start-ups like Stowga are transforming how businesses operate. Finding real estate used to be a drawn-out process and retailers signed up to space on long-term contracts.
Stowga allows retailers to take space quickly and easily on a short-term basis. In industries that experience big peaks, this allows businesses to flex when necessary.
Don't act like a headless chicken
KFC undoubtedly had one of the worst weeks in its history. Experts predict the fast-food chain lost £1m a day during the Great Chicken Crisis of 2018.
But while it's supply chain cock-up may have left customers angry, it's PR response got them smiling again.
The company took out a full-page apology reading 'FCK' – a play on KFC – in national newspapers. The ad read: "A chicken shop without any chicken. It's not ideal."
It's Twitter account was a triumph of bird-related puns as it made light of the situation (while also keeping customers up to date with its progress).
"The chicken crossed the road, just not to our restaurants" read its original post that informed customers of the supply problems. Then, as it sought to rectify the issue: "Some chickens have now crossed the road, the rest are waiting at the pelican crossing."
The retailer addressed the issue head-on, did not look at blaming its suppliers or giving a corporate "operational issues"-type statement. Instead it used humour to good effect and kept its customers on side.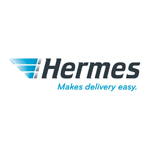 Hermes' vision is to be the carrier of choice for every end customer in the UK. The company currently delivers parcels on behalf of 80% of the country's top retailers and etailers.