Fifty UK senior retail professionals have named the brands they rate most highly for supply chain success in Retail Week's Chain Reaction report.
Dunelm and Chanel are among the retailers and brands industry executives believe are achieving supply chain excellence, according to our latest report.
Surveyed in March, 50 UK senior retail tech, supply chain and IT professionals were asked, unprompted, to name the retailer they rate most highly for supply chain and operations management.
Unsurprisingly, businesses including Tesco and Amazon were also highlighted in the Chain Reaction report produced in association with GreyOrange.
Reasons cited for naming these retailers for operational excellence included that they have "very advanced supply chain management that is also extremely quick and efficient" and a "fully automated warehouse", and that they are a "powerhouse and trendsetter".
Tesco's supply chain strategy under the spotlight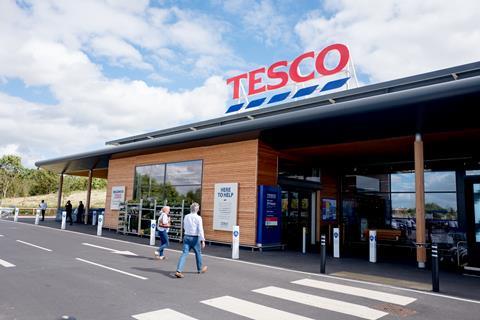 Investing in supplier relationships
Using rail networks as part of its distribution
Automating warehouses and supply chain facilities
Making in-roads with on-demand delivery
Tesco chief executive Ken Murphy has talked up the retailer's supply chain capabilities. During a half-year results announcement in November 2021, he said: "With various different challenges currently affecting the industry, the resilience of our supply chain and the depth of our supplier partnerships has once again been shown to be a key asset."
He added: "As industry supply chains came under increasing pressure, we were able to leverage our strong supplier relationships and distribution capability to maintain good levels of availability for customers, contributing to our market outperformance."
Over the past few years, Tesco has invested in improved storage technology, giving it the option of cutting the food packaging stage from parts of its supply chain and allowing it to ship directly from produce suppliers to its stores.
The objective here is fresher food for customers and less waste, which is a key aim for all the major UK grocers as sustainability and efficiency sit high up on the boardroom agenda.
Tesco also uses a higher proportion of rail networks to distribute its products than any other food retailer in the UK, with a dedicated train service bringing produce to its distribution network from Spain – a move that is also greener than many of the alternatives, such as lorries on the roads, as the trains mostly run on electricity.
Not only is this greener but, according to Tesco's UK head of primary distribution John Steventon, it "will add a whole extra day to shelf-life and reduce food waste" when, with track improvements, the route from Spain to the UK is cut from four days to three. In comparison, lorries currently take four days.
Murphy said the company planned to expand the 65,000 containers it transports by rail each year to 90,000 in the near future. Tesco is also aiming to have a fully electric home-delivery UK fleet by 2028 and is among the leading businesses in trialling and developing alternatively fuelled vehicles in efforts to reduce its carbon footprint.
Outside of sustainability moves, Tesco has invested in equipment that improves storage density and brings more automation into the warehouse, but it is in the on-demand delivery space where the company has made great strides in the last 12 months.
Since the launch of its Whoosh delivery option in May 2021, Tesco is enabling customers in certain areas of the UK to get deliveries to their door in under 60 minutes with goods fulfilled by a fleet of bikes.
The grocer also partnered with on-demand delivery intermediary Gorillas in October 2021, with the two businesses establishing co-located warehouses within Tesco stores – or micro-fulfilment centres – to enable the delivery of groceries within minutes for customers in the initial areas of operation.
The partnership allows Tesco to enhance speedy delivery capacity, while Gorillas' app users gain access to an extensive selection of Tesco products.
Supply chain collaborations like this demonstrate how retailers are focusing on their strengths and turning to specialist partners to fill gaps in their business model.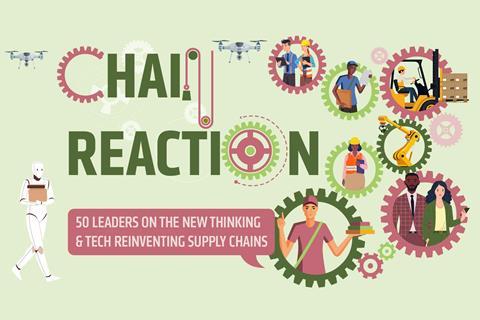 View the full ranking – and find out if your business is among them – by reading Chain Reaction: 50 leaders on the new thinking and tech reinventing supply chains today.
You will also:
Discover if there is a disconnect between retail executives and leadership when it comes to investment, budgets and staffing
Get closer to the technology you must invest in to stay ahead of disruption
Understand what your supply chain strategy must look like going forward

GreyOrange is a global company that modernises order fulfilment through AI-driven software and mobile robots, built together so they co-operate in deciding on and executing warehouse activities that maximise payoffs and minimise tradeoffs to create the highest yield.