PAID FOR POST
The Hermes Supply Chain Blog on Retail Week
Personalisation has been the buzzword for the past year. Retailers are investing to tailor the product and content each shopper sees.
But what about the delivery options the shopper is offered? Much like content and product, delivery can be a big driver for consumers to proceed to checkout.
Right now, most retailers take a blanket approach to delivery. Cut-off times for next-day delivery are emblazoned across the retail websites – order by 8pm, 9pm, even midnight for leaders such as Next, New Look and House of Fraser, and get your items the next day.
However, that seems to apply to me in central London and my mother-in-law in wildest west Wales.
Given that I readily share my location information with retailers, why can't they tailor the delivery options I see for me?
Bespoke delivery will prevent broken promises
Well, they can. Dynamic delivery is slowly gaining traction in the industry, with retailers offering smarter delivery choices based upon not only delivery address, but what products are purchased, the capacity of carriers and even based on whether you're a high-value customer.
Not only can this delight customers with quicker delivery options, it can also prevent negative experiences. Shoppers will no longer be offered next-day delivery if couriers simply cannot meet that promise.
Black Friday is on the horizon and we all know the delivery chaos the discount frenzy has created over the past few years. Late delivery can quickly turn the euphoria of grabbing a cracking deal into annoyance of having to wait weeks to receive it.
By investing in slick software to personalise delivery like we do with other key parts of the retail offer, businesses could substantially improve the customer experience.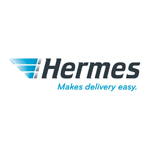 Hermes' vision is to be the carrier of choice for every end customer in the UK. The company currently delivers parcels on behalf of 80% of the country's top retailers and etailers.