PAID FOR POST
The Hermes Supply Chain Blog on Retail Week
New research from Hermes shows two-thirds of consumers are planning to hunt for an attractive deal across the Black Friday weekend this year.
Children up and down the country won't be opening the first door on their advent calendars for another two and a half weeks, but last Friday signalled the start of the Christmas countdown as John Lewis unveiled its new and heart-warming advert for the festive season. I will now be waiting with baited breath for the Coca-Cola trucks to roll into town to all but confirm 'the holidays are coming'.
While many retailers have been preparing for Christmas since January, the upcoming Black Friday and Cyber Monday weekend will provide ample opportunity for UK consumers to plan ahead and secure some cut-price presents. With just two weeks to go, the Hermes team decided to ask 2,000 shoppers about their intentions ahead of the weekend that is famed for huge discounts.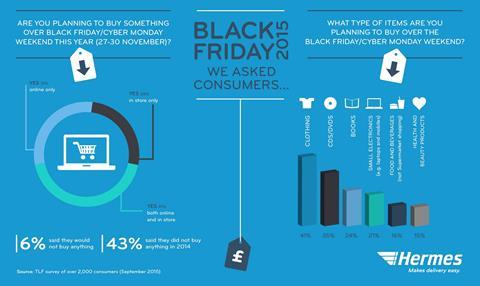 Consumers plan to spend on Black Friday
Our research revealed that only 6% of consumers would not be taking advantage of reduced prices during the weekend, while two thirds of people said they definitely would be on the hunt for attractive deals. The Black Friday phenomenon has certainly struck a chord with UK shoppers, so much so that 67% of people are now holding back from making purchases until the day in order to take advantage of reduced prices.
36% of savvy shoppers said they would complete all of their Christmas shopping during the event
In addition, 41% of consumers will frantically shop both in store and online in a bid to snare the very best deals. A further 31% said they would prefer to browse for online bargains from the comfort of their armchairs, with 28% admitting they will battle the huge crowds for discounted products in store.
Meanwhile, 36% of savvy shoppers said they would complete all of their Christmas shopping during the event, which doesn't sound like a bad idea to me. The survey showed that the 25-to-34-year-old age group will be the most proactive, as 51% of those quizzed ensure all festive gifts are purchased during Black Friday and Cyber Monday, compared with just 11% of those aged 65 or over.
Are we ready?
In light of these results I'm sure it comes as no surprise that analysts are predicting Black Friday will become the UK's first-ever £1bn online shopping day. This is why we have spent the past few months working closely with our clients to finalise plans ahead of the peak season by analysing forecasted volumes and confirming collection schedules. In addition, we have made a significant investment in our infrastructure and technology that will allow us to continue to operate a highly efficient service at all times.
Mark Pettit is sales & marketing director at Hermes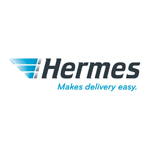 Hermes' vision is to be the carrier of choice for every end customer in the UK. The company currently delivers parcels on behalf of 80% of the country's top retailers and etailers.