PAID FOR POST
The Hermes Supply Chain Blog on Retail Week
Tempted by the summer Sales last week I spent far too much at one particular fashion retailer's website.
The retailer warned me that I would face a slightly longer wait as some of the items I bought were sold out online so were being delivered from store. However, with the 60% discount I'd bagged that was a small price to pay.
Five dresses and £200 down I waited for my parcel to arrive. At first, I was impressed by the communication. A couple of emails let me know when my parcel was on its way and when it had arrived with the local courier.
So far, so good. Then, minutes after an email arrived informing me my haul of cut-price cold shoulder dresses would arrive today, I received another email to say that four of my five items had been cancelled due to a lack of availability.
Despite the fact that I can now look at my credit card balance without flinching, it left a very sour taste in my mouth.
Single stock pool
Retailers have discussed the benefits of adopting a single stock pool for a long time. All products, be it in store or a central distribution centre, are available to any customer regardless of their shopping channel.
This can reduce the amount of stock held by a retailer and cut the amount of mark down product. However, as my experience shows, getting it right is easier said than done.
Watertight processes are needed to make sure stock is accurately reported and the data collected is unified across all channels.
A few days after my lighter-than-expected delivery was made, I received yet another email from the fashion retailer in question asking me to rate my purchases, with a list of all the dresses that were missing from my order.
Again, this showed a lack of integration of data and from my customer perspective, it rubbed salt into the wound.
Needless to say I'm unlikely to shop with that retailer again.
Omnichannel opens a big opportunity for retailers but getting it wrong can lose more than a sale, it can lose a customer for life.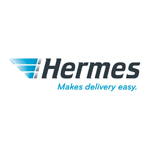 Hermes' vision is to be the carrier of choice for every end customer in the UK. The company currently delivers parcels on behalf of 80% of the country's top retailers and etailers.