PAID FOR POST
The Hermes Supply Chain Blog on Retail Week
Black Friday has been and gone and this year it appears that retail's supply chains have stood up well to the year's biggest delivery stress test.
Like many, I picked up a Christmas sack full of Black Friday bargains and have largely been impressed by the retailers I've shopped with. Here are a few musings from my own Black Friday experience.
1. The early bird gets the bargain
This year retailers tried to move Black Friday from a single day of deals to a more drawn out promotional period in a bid to relieve pressure on couriers, warehouse workers and IT.
The raft of adverts alerting me to these week long deals clearly made an impact as this year I snapped up the vast majority of my Black Friday buys well ahead of the big day.
And I'm glad I did. Some of the deals I pounced on – such as 30% off my new Nike gymwear – were not available on the day itself.
2. Under promise, over deliver
Black Friday in the UK has been synonymous with delivery chaos, if one is to believe the headlines of the Daily Mail. Not so this year.
The bid to spread out trade combined with more realistic delivery timeframes have led to a rather smoother Black Friday.
With my own purchases, I even received some items earlier than promised. I was given a five day delivery window by Very.co.uk and received my brothers' new Christmas trainers the very next day, a full four days ahead of schedule. Well done, Very.co.uk.
Under promising and over delivering is a smart tack for retailers to take. The result: a very impressed shopper.
3. Can a Black Friday shopper really be for life?
This Black Friday I went outside my usual retail set to grab a deal. I went to town on House of Fraser's website – a website I've never bought from before – buying nine (yes, nine) jumpers to bolster my winter wardrobe.
Yes, HoF wooed me with an impressive discount. However, its huge range, swift delivery and compelling CRM have me hooked.
I've since bought something else on the House of Fraser site and have even signed up to its Recognition rewards card. Perhaps a Black Friday shopper can be for life.
4. Returns, returns, returns
I may have bought nine jumpers, but I returned four of them. As Black Friday has evolved into a predominately online event, returns have become a bigger headache for retailers and couriers to deal with.
The next couple of weeks will undoubtedly be busy for those managing returns, who need to ensure stock is ready to resell as soon as possible.
From a shopper's perspective, a speedy returns process peppered with customer communication about when refunds will be issued is vital. And it's why this happy Black Friday shopper has already returned to HoF to buy some full price Christmas gifts.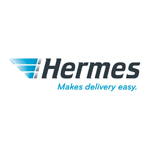 Hermes' vision is to be the carrier of choice for every end customer in the UK. The company currently delivers parcels on behalf of 80% of the country's top retailers and etailers.