PAID FOR POST
The Hermes Supply Chain Blog on Retail Week
Our jobs are being replaced by robots. We've all read worrying headlines of that ilk that paint a scary picture of what life will be like in the future.
The BBC has even produced a helpful tool to calculate how at risk our jobs are (only 8% for a journalist – phew).
A study by Oxford University and Deloitte last year found that 35% of current jobs are at risk of automation over the next 20 years. However, Brexit might speed this up.
Law firm Pinsent Masons believes if the UK's departure from the EU leads to a shortage of migrant workers to carry out jobs in logistics and warehousing, it could encourage manufacturers and retailers to invest and integrate robotics into their supply chain.
Robots aren't new to retail. Some retailers such as Marks & Spencer and Ocado already use robots in their warehouse. In fact, Amazon bought robotics firm Kiva – now called Amazon Robotics – back in 2012 for a whopping $775m (£598m).
Amazon's technology takes the shape of a 16-inch wheeled device that brings shelves of goods waiting to be shipped directly to the packer, saving them the walk through the distribution centre to collect items.
The next step will be bringing robots into last-mile delivery. Skype's co-founder has created Starship, a small robot that manoeuvres down streets and can carry packages of up to 20 pounds.
National Living Wage
Of course, Brexit isn't the only impetus for the acceleration of robot investment. The National Living Wage has also forced retailers to look at where efficiencies can be made across the supply chain.
On a personal level, I find the suggestion that a robot can replace a human worker distasteful. However, I understand the logic in using this technology to do parts of the process where warehouse operatives don't really add value.
I'd argue that to maintain a high standard of customer service the human touch is still necessary. No matter how sophisticated a machine is, it can't recognise that there's a scuff on those shoes or the box it's packed in is damaged – or can it?
If Brexit does accelerate robot development I hope that, rather than exacerbate unemployment, it helps create a more productive, flourishing retail industry, which in turn will create more jobs.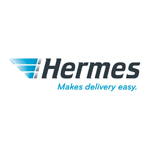 Hermes' vision is to be the carrier of choice for every end customer in the UK. The company currently delivers parcels on behalf of 80% of the country's top retailers and etailers.