Toy retailer The Entertainer has overhauled its branding and store format following customer analysis.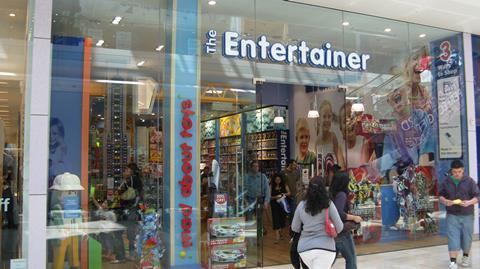 The 49-store retailer has tested aspects of the new model in its Liverpool and Chelmsford shops, and its Reading store will be the first to be completely reformatted.
The shop will carry a new fascia and modified logo, along with altered ceilings and flooring, better lighting, wider aisles, lower racks and increased signage.
The number of lines in store will be reduced from about 5,500 to 3,500.
Managing director Gary Grant said customer feedback revealed some shoppers found The Entertainer stores "overwhelming", so he wanted to make the new format "less intimidating".
He said: "We've reduced the product range but we won't lose the Aladdin's cave effect. It's important not to lose range credibility."
All new stores will adopt the updated format, and some existing stores will be converted retrospectively. "This is how the chain will look going forward," said Grant, who revealed the Reading makeover cost £150,000.
The store will close for a month while it is refitted, before opening on April 3.
Grant said: "This is a whole new thing for us. It's the first time we've ever done focus groups."
The study - which was known internally as Project Street - involved four consumer panels in the summer of 2008, comprising both The Entertainer shoppers and consumers who did not shop in its stores.
Last year Retail Week revealed The Entertainer aimed to double the size of its business in the next four years, with plans for up to 100 stores as it plans to take advantage of the gap in the market left by Woolworths' demise. The retailer wants to open 12 shops this year. The first will be in Hull.
The Entertainer's sales rocketed 27% in the eight weeks to January 3.