Less is definitely more when it comes to beauty stores and Malin + Goetz is no exception at its recently opened store in Los Angeles.
Beauty stores tend to have money lavished on them and at the moment it would appear that the 'less is more' school of design predominates.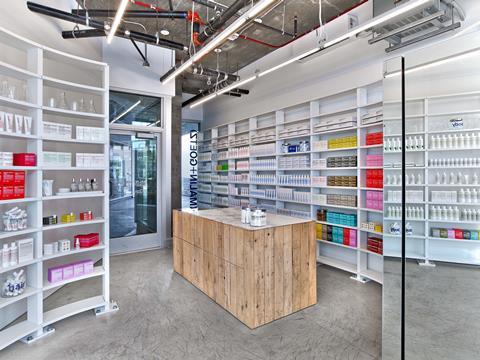 This may have been the starting point for the recently-opened Malin + Goetz store in Los Angeles, but it takes things a stage further by using the window scheme as the main in-store display with a ribbon-like shelving arrangement that winds its way around the interior to appear in the glassline.
This is still a distinctly clinical, minimalist store, inside and out. But the manner in which the perimeter fixturing has been dealt with leaves shoppers with the sense that it is more like an art installation than a minimalist piece of retail design.
It is worth noting that New York-based Malin + Goetz follows the pattern set by others in the sector, most notably Aesop, by making every store that it opens different, while at the same time using the product packaging as the main element that promotes recognition.
In-store minimalism doesn't have to mean pared-back and frequently boring shopfits.