The future of UK High Streets is at stake as the country emerges from the grips of the pandemic, but it is important to understand what consumers want from it if they are to return in greater numbers. Read Retail Week's High Street Rebooted report to find out what 1,000 UK consumers said
Primark, Amazon, John Lewis, Marks & Spencer and Asda are the top five stores consumers most want on their high streets, a Retail Week survey of 1,000 UK consumers reveals.
It should come as welcome news then that Primark finance boss John Bason told Retail Week recently it is "more than likely" it would reopen all of its 153 English stores on April 12 with "the worst behind us".
The research also shows UK consumers are calling out for Amazon shops on their local high streets, indicating that Amazon Fresh is opening in the country at just the right time.
This was the verdict of 1,000 UK consumers surveyed as part of Retail Week's new High Street Rebooted report, produced in association with Diebold Nixdorf.
John Lewis was third, though consumers are unlikely to see shops appear on their local high streets after chair Dame Sharon White recently said it "does not expect to reopen all John Lewis shops at the end of lockdown" following trading difficulties during the pandemic.
Marks & Spencer and Asda round out the top five.
The consumer research revealed 75% of people believe the high street has just five years or less to survive in its current form and 52% said they spend less money on the high street than they did five years ago.
However, 81% of consumers said they would care if their local high street disappeared and 59% feel compelled to support it.
Amazon ranking so highly shows consumers draw very little distinction between digital and physical shopping. Instead, they expect to see their favourite online retailers on the high street.
The Amazon Fresh store that opened on March 4 in Ealing, west London, was the etail giant's first foray into bricks-and-mortar retail outside of the US, with its second store opening in Wembley this week. The stores use its Just Walk Out technology, which it has already successfully used across its Go stores in the US.
Amazon Fresh stores UK director Matt Birch told Retail Week further openings would follow "in and around London" in areas similar to Ealing with a high density of shoppers who live and work in the local area.
The High Street Rebooted report sets out what the future high street will need to look like and investigates how localism has thrived during the pandemic as consumers have rediscovered the town centres closest to them, with in-depth breakdowns by region.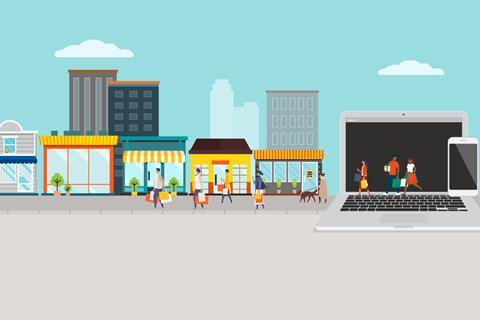 Want to find out more? Download your free copy of High Street Rebooted 2021 today to discover:
The top five retailers consumers most want to see on their High Street
Data broken down across 12 UK regions to help store expansion planning
What products retailers should be selling and the prices they should be setting
The in-store technologies to invest in that consumers want and will drive spend
Expert views from Spar UK, Majestic Wine and Superdry on how to save the High Street

Diebold Nixdorf is a global leader in driving connected commerce for the retail and financial industries. The company automates, digitises and transforms the way people bank and shop. As a partner to the majority of the world's top 100 financial institutions and top 25 global retailers, our integrated solutions connect digital and physical channels conveniently, securely and efficiently for millions of consumers each day.