Carpetright is testing a new fascia on three shops as it mulls an overhaul of the logo for its entire chain.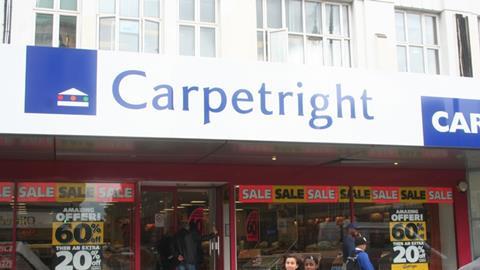 The carpet and floorings retailer said the move had given it the impetus to look at "cleaning up" the Carpetright logo in the long term but it has no immediate plans to roll out the trial fascia.
The shops - in Kentish Town in London, Bromley in Kent and Oxted in Surrey - are all high street locations. Carpetright commercial director Martin Harris said high streets demanded a different type of logo to its larger-format stores, so the retailer opted to trial the same logo it uses for its corporate branding, which also features at its head office and warehouse operations.
Harris said Carpetright's traditional logo did not reproduce very well on the "skinny, long" high street fascias. "We'd either have to stretch it out, which makes it look ugly, or repeat it along the length of the fascia," he said.
Harris said: "We looked to see if there was a way of cleaning up the signage so it was readable. It has given me the appetite to clean up the logo."
Harris said the trial was part of Carpetright's ongoing company-wide Project 20:20 programme, which he is spearheading. It is designed to place more emphasis on training.
As part of the project, Carpetright has begun to refresh stores, rolling out colour wheels and mood boards to stores and revitalising its product lines to include trendier ranges.
Carpetright, which traditionally operated on retail parks, began rolling out high street stores last year to grow market share, snapping up several Woolworths stores. It plans to open up to 150 in the long term and has about 30 at present.