Australian stationery retailer Kikki.K is eyeing more than 100 UK stores and hopes to launch a flagship in London as early as October.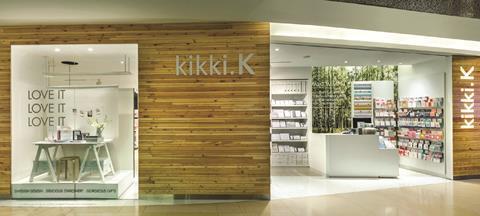 Kikki.K plans to open over 100 stores in the UK
Five UK store openings slated for the next year
West End locations under consideration for flagship
The retailer plans to open five shops in the UK over the next year and is in the process of setting up a local team and logistics operation including a warehouse to support the launch.
Kikki.K chief executive Russell Parker believes there is space in this country for "100-plus" stores based on the size of its Australian business, which has around 70 branches.
The retailer is targeting central London locations including Oxford Street and Regent Street for its flagship.
Parker said: "We are very aware you only get one shot at creating a first impression, so we are hoping we will we land a blockbuster location for the first store".
Kikki.K's country head for Australia Sue Nairn is leading the launch, but the retailer plans to recruit a country manager for the UK.
An "aspirational" brand
Kikki.K's product is design-led and extends beyond the core stationery offer to include leather bags, home décor and homewares.
The retailer is positioned as an "aspirational" brand and the majority of its customers are female. Kikki.K aims to attract shoppers of all ages in contrast to fellow Australian stationer Smiggle, which caters for children.
Parker said: "In the UK we will be a Paperchase rather than an Asda. We are a lifestyle brand but mass-market."
Paperchase boss Timothy Melgund said he would welcome the additional competition provided by Kikki.K's launch and it shows "how buoyant the particular sector of the market is".
Melgund observed: "They have got a great look and they are in certain categories we are in. It will be interesting to see if they can see that translate in the UK."
However, Melgund believes that other stationery retailers that have launched in the UK have not found it as easy as expected because of the highly competitive nature of UK retail.
Smiggle said it was targeting 250 stores when it launched in the UK, but Melgund predicts the retailer will no longer be as "gung-ho" as it was at launch.