PAID FOR POST
More voices from the retail industry
In-store media sales are booming, and retailers can take advantage of that by building their own digital signage network, says Mats Klevjer, director of digital out of home at Advertima.
As the Covid-19 pandemic promoted a surge in ecommerce, grocery retailers had to invest more in their online channels to satisfy unprecedented, fast-changing customer needs.
Now the challenge for grocery retailers and their supplier brands is to sustain this growth and stay ahead of the competition.
The key to success is to continuously improve efficiency and identify new business opportunities. Quick technological adoption, like that of retail AI, will be a critical component of this success.
Emerging business model
One of the most promising emerging business models, as already proven by a few global retailers, is leveraging in-store retail media to introduce a new revenue stream estimated to be worth £1.7bn per year for UK retailers and £11bn across the EMEA region.
Eighty-five per cent of consumer packaged goods (CPG) brands are also predicted to move more of their marketing budget to retail media networks.
In-store media differs from general retail media in that it covers the channels that are directly or closer to the point of sale in the real world. Some of the world's biggest supermarket chains have already understood the immense financial and strategic value of developing an in-store media strategy to capture brands' advertising money.
CPGs are looking to invest in performance-driven in-store media networks that verify actual audience reach and comply with advertising measurement standards
CPGs are looking to invest in in-store digital media networks that can offer a data-driven and proven performance media space with unique targeting capabilities to effectively reach real and verified audiences at the crucial point of purchase.
The companies that do this best will position themselves to dominate the retail landscape with late adopters lagging behind.
So, why haven't all grocery retailers already built and scaled their owned in-store media network?
Why haven't all grocery retailers already built and scaled their owned in-store media network?
The answer is that it can be highly complex to successfully run a money-making in-store retail media network.
Grocery retailers must find the right partners to reduce operational complexity, provide technological know-how to their in-house team, and give media agencies and advertisers access to efficient workflows, verified audiences, unique data and accurate measurement to deliver an optimal ROI.
This, paired with the lack of understanding of the value of an in-store media network, can seem like a daunting task on top of everything retailers need to do to remain competitive.
But it is exactly this lack of new technology adoption that will cut retailers out of the £1.7bn market and hurt their competitive advantage, both immediately and in the long run.
The solution
Partnering with the right digital signage technology vendor is key to building a successful in-store retail media network. Grocery retailers should partner with tech providers who:
Offer a holistic in-store media network solution with simple implementation
Have proven experience and a clear understanding of how grocery retail operates
Offer a distinct competitive advantage such as unique, first-party data. A retail technology like smart digital signage (one that can detect and target audiences in store, in real time), paired with an automated ad booking and delivery platform that advertisers and suppliers can directly access is a running start.
The Covid-19 pandemic forced retailers to act more innovatively and quickly by implementing new solutions they might not have invested in before.
It will continue to evolve faster than ever and those that start investing in the promising emergence of in-store media networks with retail tech like AI-powered digital signage solutions will gain vastly more profit than those that don't.
Read more on why 85% of CPG brands are moving more of their marketing budget to retail media networks.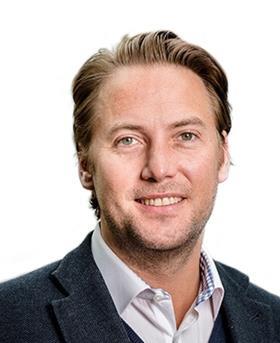 Mats Klevjer is director of digital out of home at Advertima
Mats Klevjer leads the digital out of home (DOOH) strategy at Advertima, focusing on partnerships with the world's leading media agencies and advising top retailers to effectively implement revenue-generating in-store media networks.
He has an expert understanding of the complex technological digital signage and DOOH marketplace. His mission is to enable the digital advertising industry to improve its insight capabilities through relevant data, ensuring informed decision-making, constructive reporting and key ROI measurement.

Advertima provides in-store shoppers' data for retail media. Advertima Smart Signage offers similar targeting capabilities and audience insights as in the online world, empowering retailers to shift brands' ad spend towards their in-store digital signage network to significantly grow their media revenue. Advertima's Computer Vision technology is fully compliant with the EU General Data Privacy Regulation (GDPR).