PAID FOR POST
More voices from the retail industry
Retail media will be one of the biggest growth areas over the next few years, so what should grocers be doing now to harness their FMCG suppliers' sizable brand marketing budget?
Investing in retail media is quickly becoming a priority for FMCG brands, with Insider Intelligence reporting that online audiences currently represent less than 20% of their total customer base.
With that being said, grocery retailers need to develop their advertising offerings beyond just ecommerce and app-based platforms if they want to access major brands' marketing budgets in order to grow their own media business and have a competitive advantage.
80% of grocers' customers shop in-store
Monetising their main audience, the in-store shopper, is crucial for grocers to get a big slice of FMCGs' brand marketing budget.
And one of the major advantages offered by in-store retail media is that it gives brands the ability to tap into a unique audience they could never reach on the likes of Amazon, Facebook or Google, in turn strengthening grocers' value proposition.
Considered by global consulting firm BCG to be the "$100bn media opportunity for retailers", grocers with their own in-store shopper data can easily and effectively sell their in-store media space. This represents a new highly profitable revenue stream.
Grocers are building their own retail media departments
As most of the major supermarket chains in the UK and Europe have either recently built or are in the process of strengthening their own existing media departments, the focus on better monetising their in-store shoppers and providing their supplier brands with direct access to them plays a central role in their growth strategies.
In-store customer data and real-time targeting
New technologies, such as AI-powered digital signage, are enabling grocery retailers to collect real-time, highly granular data about their in-store audience.
Such technologies give grocers unprecedented insight into shoppers' behaviour.
"If grocers want to successfully shift brand marketing budgets to their bricks-and-mortar stores, they must be able to offer similar levels of targeting and audience insights as in the online world"
At the same time, these insights prove valuable to FMCG brand managers who consistently demand better data about audiences. Ultimately, this data becomes a key component when deciding who to give their advertising money to.
If grocers want to successfully shift brand marketing budgets to their bricks-and-mortar stores, they must be able to offer similar levels of targeting and audience insights as in the online world.
Technology adoption is key to retail media success
The future of retail media is driven by new technologies that match the needs of brands and media agencies.
Without the capabilities that FMCG brands want, in-store retail media will not be considered an important part of brands' marketing strategies.
Grocers providing in-store audience analytics and real-time targeting capabilities will increase the demand placed on their media assets compared with their competitors, who will highly likely be left behind due to their lack of new technology adoption.
Contact us to learn more about what's driving the growth of grocery retail media in 2022.
Mike Skene is media solutions director at Advertima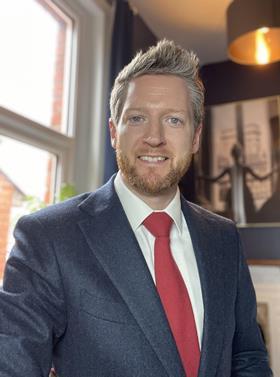 Mike Skene leads the media solutions team at Advertima, responsible for ensuring that its product fit is tightly aligned to the needs of the grocery retail, FMCG brand marketing and out-of-home (OOH) media buying industry sectors.
Skene draws on a wide range of experience, having spent the last 10-plus years working in planning, buying and strategy-based roles across both specialist OOH agencies and the media centres of both the Co-op and Spar UK.
His mission is to: 1) help grocery retailers transform their existing in-store retail media offering with market-leading Computer Vision technology; 2) optimise the effectiveness of digital signage assets through targeted customer engagements; and 3) provide a means of verifying and validating in-store audiences with a focus on performance analytics and incremental revenue generation.

Advertima provides in-store shoppers' data for retail media. Advertima Smart Signage offers similar targeting capabilities and audience insights as in the online world, empowering retailers to shift brands' ad spend towards their in-store digital signage network to significantly grow their media revenue. Advertima's Computer Vision technology is fully compliant with the EU General Data Privacy Regulation (GDPR).
View full Profile