PAID FOR POST
More voices from the retail industry
The beauty sector is soaring to new levels of brand engagement in China, but what is the key formula to success and how can UK retailers emulate it? Alibaba's Kristina Hui investigates.
Beauty brands are at the top of their game in Asia, with sales on the likes of men's personal care products and make-up sets growing by 300% and 150% respectively during Alibaba's 11.11. Global Shopping Festival.
Luxury brands with beauty ranges such as Hermès, Valentino, Burberry and Kenzo all surpassed last year's sales during the festival period, with newer firms also enjoying unprecedented growth.
But what are beauty brands doing differently and how can UK retailers learn from their success?
Livestreaming is a key tool
Livestreaming is one of the most effective ways for brands to engage with consumers as it plays a key role in a successful export strategy.
Livestreaming has shaped the ecommerce agenda in China and enables international brands to stay front of mind for Chinese consumers – particularly in the wake of offline disruptions caused by the Covid-19 pandemic.
In 2021 the livestream shopping market in China reached RMB 2trn, or more than US$300bn.
Alibaba hosts a dedicated livestream shopping channel, Taobao Live, which enables consumers to watch their favourite influencers or brands on a livestream, to learn more about products and category trends, ask questions and get real-time answers about the product or brand, and make the purchase straight away without even needing to leave the stream.
As brands and retailers are reaping the benefits of livestreaming in China there will be expansion into even more innovative uses of technology to drive greater brand engagement.
Now is the time to innovate
As the beauty sector continues to show, now is not the time to stand still. The brands that are pushing the envelope and trying out new products and ways of marketing are the ones that are enjoying the most success.
One of the most powerful ways the brands behind the festival's trending beauty products were able to achieve such strong growth and connect with customers was through employing the latest tech innovations in their brand engagement strategy.
Don't be afraid to go niche
It has been proven that there is increased demand for niche beauty categories, giving plenty of opportunity for British beauty brands to hone their creativity and product innovation for a market that is open to trying out new things.
Alongside the big beauty stalwarts, niche beauty categories are growing.
Throughout Alibaba's 11.11. Global Shopping Festival there was a huge uplift in sales of antioxidant facial masks, hot and cold facial beauty devices and anti-inflammatory serums.
In addition, 148 different brand categories saw gross merchandise value growth of more than 100% proving that there is a growing appetite for new and exciting innovations.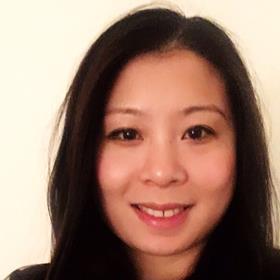 Kristina Hui is head of business development Tmall Global, Alibaba – beauty and personal category for UK, DACH, Nordics
Alibaba Group's mission is to make it easy to do business anywhere globally, creating a level playing field and opportunity for businesses of all sizes, underpinned by world-leading innovation. Alibaba enables international brands and small businesses alike to access new markets and benefit from significant export and import opportunities through our B2C ecommerce platforms, Tmall and Tmall Global, and B2B marketplace Alibaba.com.