PAID FOR POST
More voices from the retail industry
As we emerge from the pandemic, Catalina UK vice-president and managing director Premal Patel explains how retailers can come back stronger.
The pandemic has changed everything: behaviours that shifted during lockdown are set to remain intact over the long term.
We've witnessed triple-digit growth in the ecommerce sector and a surge in hybrid shopping, which consumers embraced in the early stages of Covid.
As the dust settles and a new normal emerges, it's critical that both brands and retailers optimise store performance, measurably increase personalisation, improve media efficiency and drive incremental sales to grasp opportunities and manage the threats that lie ahead.
To help retailers and brands win during these uncertain and disruptive times, here are five key strategies to consider when responding to the new retail reality.
1. Brand positioning to remain relevant to shifting shopper expectations
The Future Shopper Report 2021 by Wunderman Thompson highlighted that 41% of global consumers were still frightened to shop in stores, while 73% said retailers need to get better at product and service delivery.
These figures highlight both shifting behaviours and rising expectations, which brands and retailers will need to address.
They'll need to listen to their customers, use data to understand how behaviour is changing and engage them seamlessly across channels.
2. The importance of a relevant, value-driven content strategy
Brands and retailers who have been able to develop a content strategy based on real-time insights responding to consumer purchase behaviour have risen to the top.

For some, this has involved making a transition from managing a transactional relationship to a more personalised one, focused more on providing their customers with what they need at this moment in their lives.
Harnessing the use of data to truly understand changing shopper desires is critical to maintaining a competitive value-driven content strategy.
3. Tailoring audiences to keep loyalists and attract new shoppers
Personalising a brand to ensure it remains relevant to existing customers while also attracting new ones is a significant challenge.
Enhancing an existing tech team could prove an invaluable measure in achieving success by ensuring the required infrastructure is in place to harness important data that will resonate with consumers across communication channels.
Onboarding a digital customer activation and creative agency is another important step in delivering relevant, personalised content that will connect with the appropriate audience profile.
4. Utilising first-party data strategies to improve personalisation
First-party data (FPD) is a vital component for brands and retailers.
An FPD strategy should identify whether there are any significant gaps with the data you hold and focus on how this can be enhanced.
This may involve bringing partners on board who can help develop and extend how you collect and utilise FPD to improve communications with a diverse customer base.
Data governance practices are an essential aspect of this strategy, which will ensure data is as enriched as possible, accurate and fully actionable.
5. Building a measurement framework that works and informs future decisions
The roll-out of iOS 14 has made it far more challenging to monitor the results of campaigns. Brands and retailers will therefore need to adopt a fail-fast mentality, embracing extensive testing and incremental development to determine whether an idea has value.
Through this process, new and effective measurement methodologies will be established to help guide decision-making on future strategy.
The world has changed. The new retail reality is challenging retailers and brands to be brave and focus on building data capabilities and customer engagement solutions across multiple channels.
Are you ready for this brave new world?
Premal Patel is vice-president and managing director at Catalina UK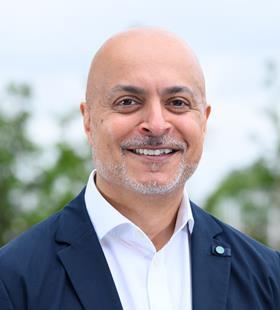 Catalina's open ecosystem of solutions helps retailers, CPG brands and agencies turn shoppers into buyers and buyers into fans.