PAID FOR POST
More voices from the retail industry
The solution to borderless buying lies with the payment options retailers provide, says Braintree Payments
The internet knows no borders and neither do buyers. Between 2014 and 2018, the total number of global online shoppers jumped 36%, from 1.32 billion to 1.79 billion people, according to research firm Statista.
Those online shoppers increasingly want to buy things internationally, but there's a catch – they want cross-border transactions to feel just as simple as any other purchase.
Retailers can find that challenging, facing variations in languages, checkout processes, and payment options. These complexities can create friction, and that friction can lead to lost sales.
Frustrated buyers lack the patience to put up with poor experiences. Research by behavioural remarketing company SaleCycle conducted in 2017 found that nearly 77% of online consumers abandoned their shopping carts, with 'the checkout process is too long or complicated' being one of the top reasons for doing so.
By getting the basics of cross-border commerce right, retailers can build confidence and loyalty with their customers; ignore them, and people will find alternative options.
So, what can retailers do to unlock a greater share of cross-border commerce?
The path of least resistance leads to sales
When it comes to payment options, less may be more. Until recently, the perceived wisdom was that if merchants wanted access to an international market, they'd have to adopt its regional payment options, adding regulatory and operational complexities to their ecommerce journey.
But this wisdom is no longer true – in fact, it may never have been. The PYMNTS X-Border Optimization Index – published in partnership with Braintree – examined 183 global enterprises in 10 countries, scoring merchants on a scale of zero to 100 along nearly 50 attributes relating to ease of doing cross-border business, including access to information, payments and shipping.
A large determinant of a merchant's success on the X-Border Index was whether it offered the top three global payment methods – Visa, Mastercard and PayPal.
The most recent index shows that merchants that did offer them were able to handle the majority of international transactions.
At the same time, having too many payment options hurt a merchant's score, with those offering 10 or more ways to pay experiencing a drop in performance.
Making it easy
The more merchants did to streamline their purchase processes, the higher they scored on the Index.
These findings suggest that to successfully serve your cross-border buyers, local payment methods aren't necessarily needed, as the top payments providers have already pioneered international markets and developed relationships with the consumers within them.
When retailers get their payments and checkout right, the shopping experience feels borderless.
And when consumers feel free to buy, retailers can capture more of the growing cross-border pie.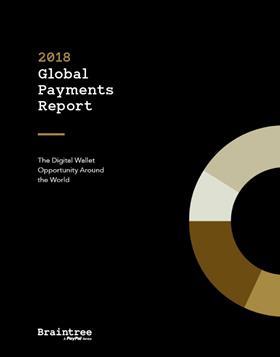 Written by Braintree Payments
To find out more about how digital wallets are changing how the world does business, download Braintree's
2018 Global Payments Report
.
In this report, Braintree, a PayPal service, explores five key regions and 64 countries to identify which areas are the most prepared for digital wallets, helping you make an informed choice for your expansion strategy.

Powering more than just payments.