PAID FOR POST
More voices from the retail industry
When it comes to digital transformation across retail there is far more to consider than simply choosing your vendor and adding new technology.
Digital transformation necessitates a shift in every part of the business, including culture. That means the people you hire, the jobs they do and how different parts of the organisation interact with each other.
Retail Week's Unified Retail report, produced in association with Salesforce, sets out how the industry needs to transition from a channel mentality to one that is much more customer-centric.
Yet if retailers are truly going to transform, cultural change has to happen in parallel with the implementation of new technology. It is only by doing both at the same time that they will be able to keep up with the modern consumer's ever-changing shopping habits.
Create a joined-up approach
Historically, ecommerce operated separately from the rest of a business and, surprisingly, that hasn't changed as much as we might perceive it has.
I still regularly meet retailers who start off by telling me they have teams that are operating in silos. One way to disperse these silos is to equip your employees with the technology that can give them access to a single view of the customer.
Creating a culture where teams feel motivated to work together and are able to share and crunch data on one platform has the ability to unite employees focused on one common goal.
Have you got the right roles?
Breaking down silos can be made easier by thinking about the roles needed to fuel cultural change and hiring the right people to fill them.
Equally, in a digitally transformed retailer looking after the customer experience should not be viewed as an IT responsibility.
The most successful models of innovation merge together IT teams that understand the digital landscape and retail teams that understand the operational challenges and the customer base.
The role of today's retail CEO is to drive this from the top down with authenticity.
Focus on your customer
It is important to remember that there is no one-size-fits-all approach to digital transformation. High-performing retailers quickly understand the specific impact digital transformation is having on their customers: what makes them unique, what they are demanding and how they are different to others.
At the same time, they identify what it is about them that their customers love, why they stay loyal and how digital transformation can enhance this further.
Technology alone isn't the answer to every challenge facing retailers. While it will ultimately make a difference, the defining moment will be when retailers have the ability to make a connection between technology and what the customer really wants and needs, which is implementing technology with purpose.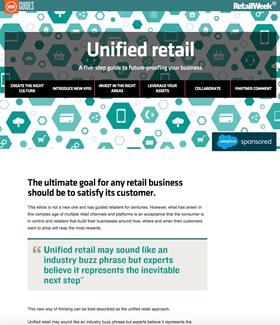 Access the full Unified retail guide to learn how to adopt a unified retail model that puts the customer at the heart of your business.
Jamie Merrick is head of industry strategy and insights at Salesforce

Salesforce is the global leader in customer relationship management (CRM). Founded in 1999, Salesforce enables companies of every size and industry to take advantage of powerful technologies – cloud, mobile, social, Internet of Things and artificial intelligence – to connect to their customers in a whole new way. For more information, please visit salesforce.com/uk.