PAID FOR POST
More voices from the retail industry
A financial boost will help central London businesses build back better, says Jace Tyrrell, chief executive of New West End Company.
The past 18 months have been unimaginably difficult for the retail and hospitality sectors, including all of our businesses across London's West End.
Since the initial national lockdown, non-essential retailers have lost hundreds of days of trading, with devastating financial implications.
However, with the worst hopefully behind us, UK cities are now looking beyond the pandemic to build back better. New West End Company, with 600 businesses across Oxford Street, Regent Street, Bond Street and in Mayfair, is no different.
"This £5bn investment will evolve our district into a world-renowned destination for modern consumers"
This month, we announced a collective £5bn investment into London's West End. The investment will not only help pandemic-ravaged businesses, but will also evolve our district into a world-renowned destination for modern consumers.
More than £220m of the total investment is dedicated to public-realm projects, signifying the priority that is rightly placed on open space.
We've already seen our streets cater to changing customer needs with wider pavement spaces and more greening, but this funding will help further improve the consumer and commuter experiences alike.
We're seeing one of the most ambitious overhauls of a high street to date, with 76% of developments becoming mixed-use.
While not without their place on the high street, traditional bricks-and-mortar retail stores will be complemented with brands that fulfil the needs of customers looking for a more diversified and immersive experience.
The introduction of live entertainment brand Outernet Global and the plans to turn Cavendish Square into a health and wellbeing destination are just two examples of how we are signalling a new era for London's West End.
Combined with the much-anticipated £18bn Crossrail Elizabeth line due to open next year and Westminster City Council's £150m Oxford Street District transformation already under way, a promising future for the area looks to be on the horizon.
Enticing visitors
According to the Treasury, UK households have gained around £180bn in unplanned savings. Combine this with a 2% increase in average transaction values compared with pre-pandemic levels and we have the ingredients for a promising domestic recovery.
Unfortunately, when it comes to overseas custom, we have a few challenges to overcome. Despite a whole host of new developments in the pipeline, there is a danger that external barriers will obstruct the number of international visitors able to experience them.
"London is at a disadvantage with other shopping destinations such as Paris"
Overseas spending is a significant contributor to the capital's economy and shouldn't be underestimated. Yet London is currently at a significant disadvantage compared with other shopping destinations, such as Paris, which offers visitors preferable visa terms and tax-free shopping.
Visas for visitors to the UK are less flexible and attractive than their Schengen equivalent, which allow entry into 26 countries. Couple this with the removal of tax-free shopping in the UK and it's clear that London is fast becoming a less appealing destination for our would-be high-net-worth visitors.
If we are to convince international tourists to choose London over the alternatives, then we need support from Westminster. We are therefore urging the government to review its visa process and consider simplifying it to ensure we remain competitive.
Building back better
There has been much commentary about the uncertain future of the West End – especially in relation to the setbacks faced by the retail and office sectors – but we see this change and unprecedented level of investment as an opportunity to evolve and confirm our position as the most renowned destination in the world.
We are seizing this once-in-a-lifetime moment by investing in the best in talent, experiences and products to create a stronger West End for the capital, the country and the rest of the world to enjoy.
Jace Tyrrell is chief executive of New West End Company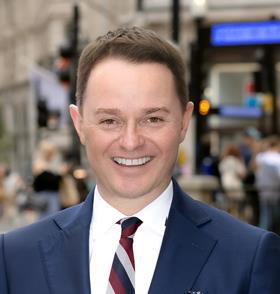 Jace Tyrrell has been chief executive of New West End Company for five years, representing Europe's largest retail and leisure destination. His brief covers 600 businesses in London's West End, with a property portfolio of £3.5bn and an annual turnover of £10bn, anchored on Bond Street, Oxford Street, Regent Street and Mayfair.
Previously, Tyrrell was executive director of the City and Westminster Property Associations, representing the commercial real estate industry in central London with a combined portfolio of more than £40bn. Prior to this, he was a director at New West End Company, helping it to win its status as a Business Improvement District.
A London Business School alumnus, Tyrell also advises the Singaporean government on urban regeneration and is a guest lecturer at Regent's University on corporate strategy and reputation management.

New West End Company is a business partnership of 600 UK and international retailers, restaurateurs, hoteliers, galleries and property owners in the world's top retail and leisure destination, anchored by Bond Street, Oxford Street and Regent Street. We work across 80 streets, representing 150,000 employees.