Retail sales growth for the remainder of the year is expected to be lacklustre following a downbeat August.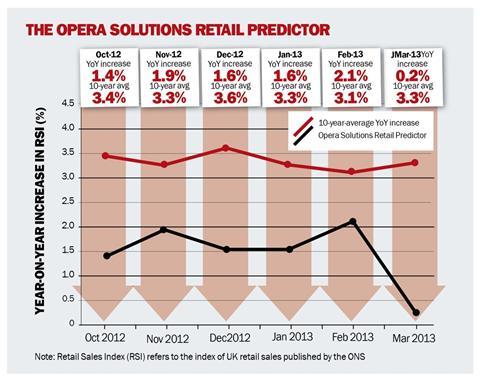 The Opera Retail Sales Predictor for Retail Week had forecast a 3.7% increase in year-on-year sales in August however ONS data showed sales only rose 3% as shoppers stayed in to watch the Olympics.
Prospects for the end of 2012 remain poor with expected year-on-year increases of 1.4% in October, 1.9% in November and 1.6% in December, well below the 10-year averages.
The start of 2013 will also be a difficult period for retailers. January sales are forecast to be up 1.6%, February ahead by 2.1% and March likely to fall back to 0.2% growth because of tough comparisons - there was panic buying of fuel last March - and continued weak consumer spending.