As Julian Richer announces plans to bankroll a campaign to end zero-hours contracts, Retail Week's latest guide examines how retailers can successfully operate a flexible workforce
Otherwise known as casual contracts, zero-hours work has been slammed by critics – such as the TUC union and Richer Sounds founder Julian Richer – for a lack of employment rights and job security.
Just this week, Richer revealed he would be investing in the new campaign Zero Hours Justice, which aims to stop the use of zero-hours contracts in Britain. The initiative will offer free legal advice clinics to zero-hours workers, whose experiences could call for a change in the law.
Against this backdrop and the controversies surrounding zero-hours contracts and the related gig economy, Retail Week's interactive guide 2020: The year of the gig economy has drawn on government research and regulations to explore how retailers can best operate a flexible workforce.
The guide, which looks into what the 4.7 million-strong gig economy means for retailers, offers a deep dive into how workers perceive the gig economy, zero-hours contracts and gives retailers food for thought on how to win the war for talent.
The gig economy and zero-hours under the microscope
Gig economy workers are typically on zero-hours contracts as it suits the flexibility of the work; an arrangement where the employer is not obliged to offer any hours and the employee is not obliged to accept any hours either.
So, what do those working in the gig economy really think?
The 2018 Department for Business, Energy and Industrial Strategy report found 90% of people who use gig work as their main source of income were either fairly or very satisfied with their experience, followed by 71% of those who use gig work as an extra source of income.
Furthermore, 58% said they were satisfied with the independence of their work, while 56% were satisfied with the level of flexibility offered.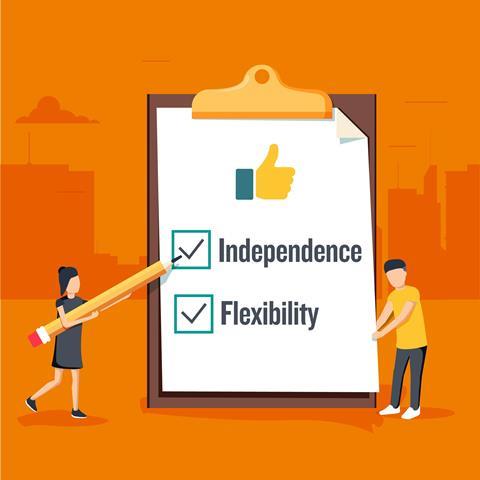 Significantly, the importance people attach to their gig economy work seemed to influence their perceptions of their experience and their conditions.
Those who consider the income they earn from the gig economy to be important to their standard of living are more likely to be satisfied with the flexibility on offer; 76% in comparison to 56%.
Despite these findings, it would be remiss to ignore the drawbacks and challenges of the gig economy and zero-hours contracts.
For the worker on a zero-hours contract, there can be difficulty securing sick pay as this is only a legal requirement for employers if the worker earns more than £118 a week and is ill for four days or more.
However, that doesn't mean employers aren't waking up to their other responsibilities and rethinking zero-hours contracts where sick leave is concerned.
For instance, in May 2018, Uber introduced sick pay for its UK drivers in a bid "to demonstrate [that] it is a responsible member of the so-called gig economy".
Outside of sick leave, there is also the issue of pay for gig economy workers as they are often paid less than permanent employees. The government research revealed 25% of gig economy participants were either very or fairly dissatisfied with their work-related benefits and level of income.
There are several on-demand apps and marketplaces that work with retailers to offer compelling rates of pay, along with traditional employment benefits such as holiday pay and pension. Catapult, for instance, offers workers between £8.75 and £12 per hour, which is above the national living wage of £8.21 for those aged 25 and over, as well as automatic holiday pay and the option to receive pension contributions.
Outside of pay, the research found 23% of gig workers said they were dissatisfied with career development and training opportunities.
Most of the gig economy workers surveyed said they hadn't received any formal training and only had limited informal training, while career progression was also stunted. To counter this, some gig economy apps and marketplaces are working with employers to provide online training.
What does this mean for retailers?
For retailers, leveraging a flexible workforce can slash recruitment costs and empower employers to meet customer demand.
With a zero-hours contract, employers don't guarantee the worker any number of hours, meaning retailers won't lose money on frontline staff they don't need during quiet periods.
However, it's a two-way street: zero-hours staff don't have to work the hours retailers may request at busier times. Yet this is where flexible workforce platforms prove their worth by offering retailers easy access to a vast pool of vetted and trained staff.
Get the full picture on zero-hours contracts and the gig economy by downloading your free guide to 2020: The year of the gig economy.
You'll gain access to:
More information on the true story behind flexible workforces
How retailers including Marks & Spencer and Planet Organic are using flexible workforces to drive ROI
How digital transformation is impacting frontline staffing
Why technology and training are changing who the frontline store associate of today needs to be – and how your business can get in on the action.


Catapult's platform helps businesses extend their workforce in a flexible and profitable way, removing costs and risks related to constant re-recruitment of part-time staff.