The bosses of leading retailers including Primark, Ikea, Waitrose, Under Armour, ProCook, River Island and McDonald's have spoken in-depth to Retail Week for a landmark new report – Retail 2023.
With the markets and country in the grips of such turmoil, this report – based on interviews with 57 leaders across 54 retailers – provides a now critical strategic outlook on the year ahead and insight into the conversations happening across UK boardrooms.
Navigating the cost-of-living crisis
In order to combat the gloomy trading environment, the retailers interviewed spoke of emphasising value, whether that manifests itself through low prices or high-quality products, depending on their market positioning. Another key strategy is spreading rising costs among their own businesses, suppliers and the consumer.
"Inflation will have the biggest impact on profitability. We're seeing record price increases at a level I've never seen before – and I've been in this industry for 15 to 20 years," says US Polo Assn president and chief executive J. Michael Prince.
"We can't pass all of that along to the consumer. Our supply chain partners will have to take some of it and then, with our licensing partners, we'll have to take some as well. It will be spread among the different groups."
River Island chief executive Will Kernan echoes the point that retailers must take action. "We have wide-ranging plans [to deal with the cost-of-living crisis]. Clearly, we need to support and reinforce our value credentials across our ranges to help our customers at this difficult time.
"We are investing further in what we're calling 'foundation lines', ie: core fashion essentials – not just maintaining, but investing in prices there.
"We're also investing in quality and design at the top end of our price architecture. There is significant cost price inflation taking place, some of which we will have to absorb within our P&L, which our suppliers are supporting us with."
Inflation vs profit potential
The word on every retailer's lips is inflation.
How that impacts businesses' abilities to grow profits and convince shoppers to part with their money is a major factor in how the industry is mapping out its plans for 2023.
The consensus among the retailers interviewed was that balancing increasing costs in the supply chain with a world-class customer proposition has to be central to a 2023 strategy.
"Profitability is going to be under pressure because we are seeing such high inflation in the cost of goods and we don't want to pass that on to our consumers"

Tracey Clements, BP
BP chief executive of convenience in Europe Tracey Clements, who also spent more than 16 years at Tesco, underlined the scale of the challenge facing retailers.
"For all good retailers at the moment, profitability is going to be under pressure because we are seeing such high inflation in the cost of goods and we don't want to pass that on to our consumers," she explains.
"Wherever possible we're trying to offset; I've never quite seen such a high inflationary climate in my career, both in terms of cost of goods and in terms of things like utilities. Across the board, we are seeing some very high inflationary numbers."
Leaders keep calm and carry on
Despite the pressures of ongoing digital transformation, Brexit-related disruption, a global pandemic, war in Ukraine, challenges across the supply chain and now the fiercest cost-of-living crisis in generations, managing through chaos has become the norm for retailers, and confidence about growth remains.
Almost half of retailers forecast sales to be slightly higher in 2023, with a further 18% expecting them to be much higher and 10% forecasting them to remain flat, our research shows.
The in-depth interviews also signalled good news for frontline employees – 71% of chief executives, managing directors and founders said they expect to navigate next year with more or the same number of staff in stores.
Want to find out more about the 2023 strategies of the 57 leaders? This is just the tip of the iceberg.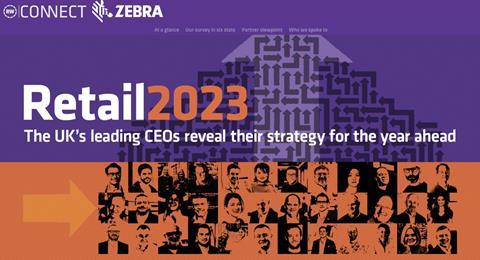 Access your free copy of Retail 2023, produced in association with Zebra Technologies, to find out:
The boardroom forecast from Waterstones, Space NK, Dobbies, Ganni, Majestic Wine and more
IT infrastructure, data, loyalty and supply chain – the truth about investment plans
The critical role a diverse marketing strategy is playing, from traditional channels such as TV through to TikTok
How retailers are infusing tech with stores to create memorable experiences
Who did we speak to? Meet the 57 leaders that took part in this research:
Paul Kraftman, chief executive, Gift Universe, and owner, Menkind
Alessandro Savelli, co-founder and managing director, Pasta Evangelists
James Daunt, managing director, Waterstones
Doug Putman, owner, Putman Investments and HMV
Chief executive, footwear retailer
Sean Ashby, managing director, AussieBum
Andrew Hood, co-founder and chief executive, Amara
Andy Lightfoot, chief executive for UK and US, Space NK
Orlagh McCloskey, co-founder, Rixo
Henrietta Rix, co-founder, Rixo
George Graham, chief executive, Wolf & Badger
Aron Gelbard, chief executive, Bloom & Wild
Mark Suddards, global retail director and general manager for northern Europe, Ganni
Graeme Jenkins, chief executive, Dobbies
Peter Jelkeby, country manager for UK and Ireland, Ikea
Luca Donnini, chief executive, Temperley London
Tracey Clements, chief executive of convenience for Europe, BP
Andy McGeoch, chief executive, M&Co
John Colley, executive chair and chief executive, Majestic Wine
Paul Marshall, managing director for Europe, Specsavers
Peter Bainbridge, general manager for optics, Specsavers
Michael Thomson, chief executive and founder, Pour Moi
Marketing and corporate responsibility director, fashion and home retailer
Maria Hollins, managing director, Ann Summers
Paul Marchant, chief executive, Primark
Huw Crwys-Williams, chief executive, WiggleCRC
Ali Hall, co-chief executive, Sosandar
Julie Lavington, co-chief executive, Sosandar
Managing director, grocery chain
J. Michael Prince, president and chief executive, U.S. Polo Assn.
Mark Saunders, chief executive, Mamas & Papas
Debbie Bond, chief commercial officer, Lovehoney
Paul Hayes, chief executive, Seasalt
Rachel Sheridan, chief commercial officer, Thread
Alex Loizou, co-founder and chief executive, Trouva
Daniel O'Neill, chief executive and founder, ProCook
Chief executive, sports equipment retailer
Rasmus Brix, general manager for UK, Pandora
Will Kernan, chief executive, River Island
Markus Naewie, head of EMEA, Victorinox
Michael Fletcher, former chief executive, Nisa
Vanessa Masliah, vice-president of marketing and branding, Vestiaire Collective
Chris Gaffney, chief executive, Johnstons of Elgin
Managing director, jewellery retailer
Gavin Peck, chief executive, The Works
Kara Trent, managing director for EMEA, Under Armour
Bridget Lea, managing director of commercial, BT
Elizabeth Spaulding, chief executive, Stitch Fix
Amy Heather, director of strategic accounts, Just Eat
Kumaran Adithyan, UK trading director, eBay
James Bailey, executive director, Waitrose
Natalie Knoll, co-founder and creative director, Bird & Knoll
Chief executive, fashion retailer
Chirag Patel, chief executive, Pentland Brands
Penny Grivea, managing director for UK and Ireland, Rituals Cosmetics
Gareth Pearson, senior vice-president and chief operations officer for UK and Ireland, McDonald's
David Robinson, chief operating officer, Pets at Home
You may not always see Zebra, but Zebra solutions can be found working behind the scenes in many industries around the world. Ensuring every asset and worker on the edge is visible. Connecting them to the data they need. Guiding them with clear and accurate insights for the best next action. And optimising workflows, operations and decisions in real time for efficient, impactful results.
View full Profile