Mothercare's trading momentum has stalled in the first quarter but the retailer insisted its performance was in line with expectations.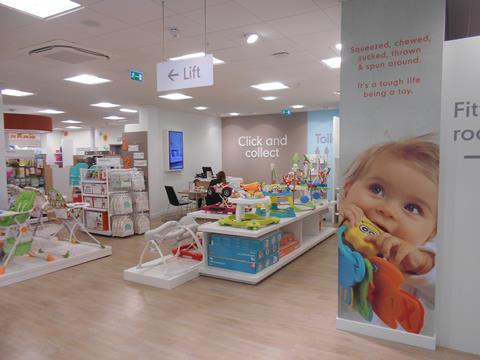 Trading momentum slows in first quarter but margins improve
International arm impacted by fragile consumer confidence due to economic uncertainty
Mothercare Ireland, a franchise business, placed into examinership
UK like-for-like growth has slowed to 1.3% in the first quarter compared to a rise of 5.1% in the previous quarter. Online sales were up 23.9% against 31.8% growth in the fourth quarter of last year.
UK total sales fell 0.9% in the 15 weeks to July 11 compared to a 1.5% rise in the previous quarter.
Total group sales dropped 5.2%, down on the 1% fall recorded in the previous quarter.
Mothercare is undergoing a turnaround plan under chief executive Mark Newton-Jones after a period of falling sales and profits. In its 2014/2015 year Mothercare halved its statutory loss before tax from £26.3m to £13.1m.
In the first quarter, international retail sales fell 1.3% in constant currencies compared to growth of 11.4% in the previous quarter "as increased levels of economic risk impact consumer confidence".
Mothercare said: "The Middle East has been impacted by a reduction in markdown and discount activity and the delay into the second quarter of the end-of-season sale which is after Ramadan and Eid."
Mothercare trades from 1,299 overseas stores covering 2.97m sq ft.
Margins improving
The retailer said its UK store rationalisation programme delivered a 5.3% reduction in space in the quarter. It also refurbished "a number" of stores across various locations. Mothercare has 180 UK stores.
Newton-Jones said: "Overall our trading is in line with expectations with the UK making a good start to the year and international performance seeing some macro volatility as anticipated.
"Overall our trading is in line with expectations with the UK making a good start to the year and international performance seeing some macro volatility as anticipated"

Mark Newton-Jones, Mothercare
"Trading across our international business has been more volatile as we have previously highlighted with increased macro headwinds impacting consumer confidence in a number of our markets.
"Despite this our international partners are building on the strong foundations already in place by continuing to open new space, positioning us well for the future when the outlook improves."
"Our strategy in the UK is continuing to deliver results. We have delayed the end of season sale to take advantage of well controlled stock and the warm weather to sell more at full price.
"As a result margins are improving without adversely affecting like-for-like sales.
"It is still early days in our turnaround and we recognise that there is still much to do. Our vision remains clear – to be the leading global retailer for parents and young children."
Meanwhile an interim examiner has been appointed by the High Court to Mothercare Ireland, which is a franchise of the main group.
The Irish business employs 276 people in 18 shops. The retailer told the Irish Examiner that the court protection and examinership will enable it to restructure the company, save as many jobs as possible and minimise shop closures as it struggles under the weight of unprofitable stores.
It is thought Mothercare Ireland has debt obligations to Mothercare UK and has had to negotiate an extension of credit terms.
It will continue to trade as normal during the examinership process, it said.