Every weekend, newspapers are running special promotions with retailers, but how do they work and which ones succeed in pulling in the punters?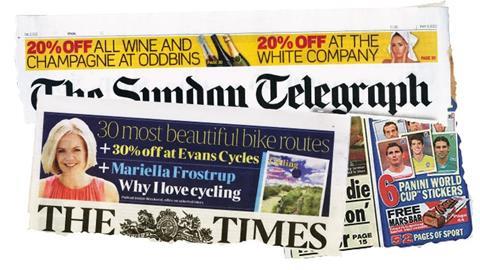 Cash-strapped consumers are being greeted with an abundance of special offers whenever they pick up a newspaper at the moment.
Whether it's free products or discount vouchers, retailers are working with newspaper publishers on these front-page promotions.
On Sunday May 9, for example, jostling for space with the latest on the election, almost a quarter of the front page of the Sunday Mirror was dedicated to such offers and the top of The Sunday Telegraph was offering 20% off at both The White Company and Oddbins.
For newspaper publishers the purpose is clear - to sell more copies. But how do these offers work and which ones best meet retailers' objectives?
It is the newspapers that are doing the chasing as they look to drive sales. "More of the proactive work is being done by the newspapers, particularly during the downturn, and there are more partnerships and co-operative approaches," says Jeremy Edwards at ad monitoring and analysis firm Xtreme Information.
Tim Ainsworth is strategy director of Starcom MediaVest Group, and in a previous role he was heavily involved in such print media partnerships at Boots. "Newspapers are fighting hard to get revenue and sell newspapers so there is a greater impetus to have front page deals and offers that consumers want," he says.
Who pays can depend on the strength of the offer. "It may be the newspaper that is in control or it may be the retailer because they have a really compelling offer that will drive sales for the newspaper," says Ainsworth.
Telegraph Media Group executive director of consumer revenues Steve McLaughlin says the deals are to reward readers. "Telegraph Media Group offers a wide range of promotions throughout the year as a way of giving extra value to our readers," he says. "We partner with national companies that want to reach our discerning, affluent and time-rich audience and whose offers we believe are of real interest and value to our readers."
The advantages to the newspaper are clear. But what of the retailer, which can at first glance appear to be losing money on such deals? It can be one or a combination of factors, such as driving footfall - which can include new curious customers - increasing loyalty, encouraging additional spend or poaching customers from the competition.
The Chartered Institute of Marketing head of research Mark Stuart says: "Often a retailer knows they have to put out an eye-catching offer to persuade a customer to buy from them. The theory behind these attractive deals, which on paper seem loss-leading because the free product can often be worth more than the newspaper, is that it gets the customer to buy from you when they might otherwise not do so. It's a powerful combination because it appears to the customer to be an unbeatable offer, yet the costs to the retailer are comparatively low."
Talking to customers
Superdrug has employed a number of such deals including free make-up in the News Of The World magazine and, on May 9, an Oasis fruit drink giveaway with the Sunday Express. Superdrug head of marketing Dan Jarvis says the tactic works well as a way to regularly speak to customers and encourage continued repeat visits. "Reader offers are just one of the channels we use to talk to our customers," he says. "Offering a free sample gives them a chance to try our new products as well as rewarding them for shopping with us. Working with the newspapers and our suppliers allows us to tailor offers throughout the year to highlight seasonal events and product launches and give customers regular reasons to call into our stores."
It may seem that an offer as seemingly trivial as a free drink or free chocolate bar is of little worth to the customer, but for many retailers it is these types of deals that work best - being relatively low cost and likely to encourage additional visits and spend.
It tends to be the smaller deals that work best and get the best take-up. "The further up the scale you go the less believable they are," says Ainsworth, who recommends that offers should also be as simple as possible.
Other reader offers focus on discount deals. Waitrose has run a number of these - such as a recent £10 off a £75 spend in the store or online in The Daily Telegraph. Waitrose marketing manager Paul Hogan says: "Our money-off voucher offers have proved to be very successful in attracting new customers to shop with us, as well as rewarding our existing customers and increasing their loyalty."
But the retailer also uses such offers to introduce customers to new lines too. "From time to time we also run product giveaways in national papers when we launch new food and drink ranges, to give consumers the chance to try for free," says Hogan "These have also been very popular. Both types of offer have worked well for us and are methods that we will continue using to reward new and existing shoppers alike."
Such comments may sound trite but such deals are indeed a valuable loyalty builder, according to Stuart. "It's a good way to build a positive brand. The customer will remember that that particular retailer offered them a great deal, and that will encourage them to think favourably about the retailer in future," he says.
Rapid reaction
Importantly, such deals also allow a more instant way of communicating to customers than traditional advertising. "The price war is a 365-day nightmare for retailers," says Ainsworth. "Reader offers are able to react really quickly and allow retailers to take a number of categories or different products into that space."
But Dak Liyanearachchi, senior vice-president of global retail solutions at Catalina Marketing, argues that collecting customer data is also important- which is why many offers require customers to fill in basic customer details in a coupon to get the deal.
"It's about how do you evolve and engage with those customers and how do you understand their preferences so as to be able to target and tailor offers and communication to them," says Liyanearachchi. "You may have driven short-term sales but it's about what you do after that and how you piggy back on that."
Ainsworth says retailers must have a clear strategy for data collection.
"If you are collecting customer data you need to know what you are going to do with it and be able to de-duplicate
it from your database," he says. "The value of such reader offers then becomes about the re-targeting opportunity of customers."
Measuring the value of such deals is vital, according to Stuart. "The important thing to do is put in effective metrics. Monitor how many people pick up on the deal, count what your costs are and see if you can detect whether your overall profits go up over the period of the offer," he says.
However, this can be easier said than done. "It can be difficult to measure effectively; there are good reasons for running a promotion even if it loses money [such as the overall benefits
to the brand as mentioned above] that wouldn't show up in transparent metrics. As long as the relationship worked positively, there's likely to be oppor­tunities to do so again in the future,"he says.
Reader offers may seem like a fairly basic marketing tool but in today's world they are proving more relevant and popular than ever.
Recent Front Page Offers
Free Mars bar - Somerfield and Co-op in the News of the World
£10 voucher off £75 spend - Waitrose in The Sunday Telegraph
Avatar DVD for £5 when you spend £50 - Morrisons in the Sunday Express
Free Twirl - Martins, McColls and RS McColl in the Sunday Express
£5 voucher - Body Shop in The Sunday Telegraph
£1.29 litre of orange juice - Tesco in the Sunday Mirror
£10 off shop - Tesco in the News of the World
20% off - Oddbins in The Sunday Telegraph
20% off - The White Company in The Sunday Telegraph
Free 500 ml Oasis drink - Superdrug in the Sunday Express
30% off - Evans Cycles in The Times
20% off Neal's Yard Remedies in The Sunday Telegraph