Kingfisher group chief executive Ian Cheshire has received an Order of State granted by the French President for his "significant contribution to the strengthening of economic and commercial links between France and the UK".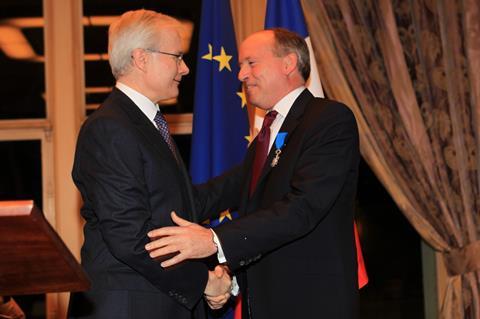 At a private reception at the Ambassador's Residence in London last night, hosted by French Ambassador to the UK Bernard Emié, Cheshire received the insignia of the Chevalier de l'Ordre National du Mérite (National Order of Merit).
The honour is similar to that of an OBE in this country.
Kingfisher, which operates B&Q in the UK, operates stores in countries from France and Poland to Russia and China. Sales in France totalled £938m in its fourth quarter alone.
Kingfisher said the honour "is a tribute to the numerous initiatives which he has taken, over a long period of time, to confirm the central role France plays in the success of Kingfisher".
Speaking at the event, Cheshire said: "I am very honoured to accept this award. I accept it on behalf of the entire team at Kingfisher, since it is recognition of our work in creating a uniquely successful Anglo-French company. This is our collective achievement, not mine personally.
"In particular I would like to thank my French colleagues for the way they have contributed to our success. Together the best of the French culture and the British culture is creating a unique international retailer that is already the leader in Europe with great opportunities ahead of us."