John Lewis sales jumped 8.4% in the week to June 1, against tough comparativen, driven by increased promotional activity.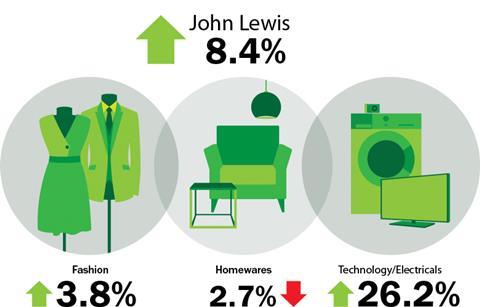 The department store said it was "cautiously satisfied" as the sales jump followed four days of price matching against a competitor compared with two days last year.
John Lewis said it was up against the early part of last year's long Jubilee bank holiday, which fell in the same period last year. Sales were also boosted by the weather, according to the retailer, which said that a cool, damp half-term week provided ideal shopping conditions.
Electricals and home technology took the lion's share of the sales increases, with sales soaring 26.2% over the week.
The retailer said imaging produced "a cracking result" and white goods was also in "very good" growth territory.
Price matching also featured in fashion, where sales edged up 3.8%, notably in nursery and toys, which both made double-figure gains.
In home, trade was more difficult, according to the retailer, as last year it had "significant benefit" from both Jubilee and Olympics merchandise. Sales dipped 2.7% in the category.
John Lewis director of retail services Barry Matheson said: "We will need to get to the end of this week to see how we have compared over the full Jubilee period. Then clearance will, as always, provide a great opportunity to cement our reputation for outstanding value and great service. Extracting maximum value from that is where attention now shifts."
Meanwhile, sister retailer Waitrose sales fell 4.5% to £115.5m over the week. The grocer said the drop was expected because of the Jubilee comparison, with the same week last year one of its busiest on record outside of Christmas and Easter.
Waitrose said its customers started off the week shopping for wintry food, with soup sales soaring 39%, but by the end of the week were buying for barbecues, with "strong sales" of sausages and charcoal.
Sales of watercress rocketed 300% over the week driven by its latest TV advert, The Story of the Wondrous Watercress. The ad features a recipe for a seasonal dish of grilled salmon with watercress, which led to other key ingredients being snapped up last week, including wild Alaskan sockeye salmon fillets, which rose by 38% and crème fraîche, which soared 221%.