John Lewis sales fell 8.7% to £64.2m in the week to July 13 as sunshine and sport, not shopping, were at the forefront of consumers' minds.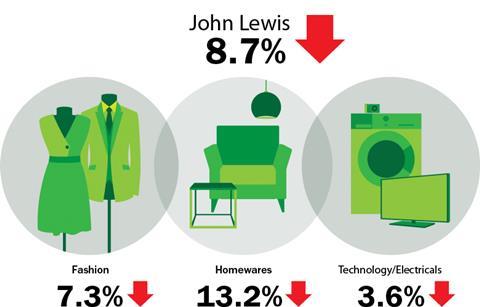 "What a fabulous week for sports lovers if not for retailers!" said Maggie Porteous, director of selling, north and new format at John Lewis. "The week started with Andy Murray clinching the Wimbledon title, which meant that all those who were not out in the sunshine spent the afternoon indoors watching the tennis and celebrating.
"From Wednesday onwards, sport lovers had the first of the Ashes test matches to watch, and what a corker it was! So with the festival of sport and with the most glorious heatwave weather it was not surprising to see a heavy deficit on trade from last year."
All three divisions were down, with home suffering the most as sales plunged 13.2% over the week. However, outdoor living products soared 127%.
Fashion sales fell 7.3%, with the only high spots being products that benefit from the sunshine. It was a "record week" for sunglasses, with sales rocketing 347%. Swimwear, linens and suncare also did well.
Electricals and home technology sales dipped 3.6%, however cooling products had a bumper week. In small electricals, juicing products also "sold strongly".
Porteous said: "The beautiful weather is set to continue, offering our customers many temptations outside. We will therefore need to work hard to tempt customers online or in to stores, and once there to wow them with our fabulous products and knowledgeable service."
Meanwhile at sister company Waitrose, the sunshine helped sales soar 16.4%.
Waitrose marketing director Rupert Thomas said: "The scorching temperatures continue to give us incremental sales, as shoppers stock up on food and drink for alfresco dining."
Thomas said the grocer had "outstanding results" in all areas which benefit from summery conditions, including fresh produce, wines and meat. It had its best ever week for barbecue meats, with sales up 200%, and charcoal rocketed 720%.
Shoppers adopted "Mediterranean style diets", according to Thomas, with halloumi and feta up by 100% on last year. Sales of raw seafood jumped 72% and oily fish by 86%.
Customers took measures to protect themselves from the sun and keep cool, with sales of suncare products up by 483% on last year and ice cream up a cool 113%.
Sales of Champagne rose by a third on last year and sales of sparkling wine by two thirds.