Sales at John Lewis department stores rose 5% last week, when the electricals and home technology category drove performance.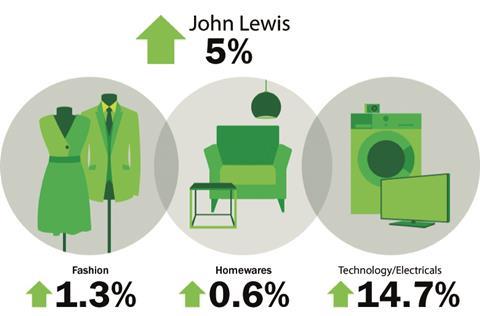 Demand for food preparation products contributed to a 14.7% increase at the electricals department.
Fashion sales were ahead 1.3% in the week to October 12, when home goods were flat and recorded a 0.6% advance.
Managing director Andy Street said: "Last week was one of two halves. From Sunday to Thursday the country enjoyed the last flushes of our Indian summer, which saw our sales continue to flag. However, the change of weather on Friday to the start of autumn injected real pace into the business. As a result we finished with a respectable gain on last year.
"There are now just 10 weeks to Christmas. Distribution centres are busy receiving the stock, shops are being decked, our marketing and PR is all but ready and partners across the division are making final plans. My sense is that we are well set and the coming half term will fire the starting gun."
Sales at stablemate grocery retailer Waitrose rose 7.1% over the week.
Indian ready meals did well as National Curry Week took place and it was a record-breaking week, excluding Christmas and Easter, for pre-packed fish.
Sales of Halloween goods climbed 41% year on year.