John Lewis has revealed a tough trading period has closed with "another difficult week" as sales fell for the fourth consecutive week in August.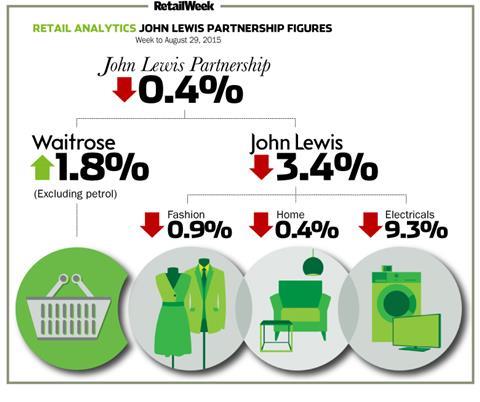 The department store revealed sales fell by 3.4% to £81.7m for the week ending August 29.
The drop in sales was reflected across the industry as the high street recorded its biggest fall in sales since the height of the recession, according to BDO's sales figures for August.
John Lewis buying and brand director Paula Nickolds claims there are "definite signs in the run up to the Bank Holiday weekend that there is plenty of pent-up demand for us to target in September".
Fashion sales at John Lewis were down 0.9% in line with the rest of August, while home sales fell by 0.4%.
Electricals recorded the biggest decrease as they fell 9.3%, which John Lewis attributes to the Bank Holiday falling late this year as well as an abnormal rush on vacuums last year due to the introduction of new European legislation.
Despite the 3.4% drop in overall sales, the retailer recorded a 6.9% year-on-year increase on web sales.
Sister retailer Waitrose recorded a 1.8% increase in sales during the same week as sales hit £120.6m.
The grocer reveals health snacks are back on the agenda after a summer of treats as soft fruit sales jumped 12% and prepared fruit sales increased 7% and snacking salads were up 28%.
Frozen goods recorded a particularly strong week as frozen prawn and scampi sales jumped 17% and 18% respectively.
Customers appeared keen to enjoy the final weeks of summer as outdoor living sales surged 39% and gardening sales jumped 64%