Spar is embarking on expansion plans in India as it seeks to open 25 hypermarkets across the country by 2017 and create 800 new roles.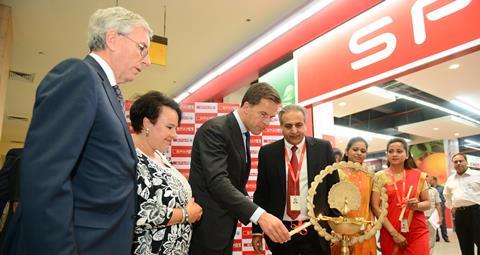 The grocer re-entered the Indian market in August after signing a deal with franchise partner Max Hypermarkets.
Spar has already launched 16 hypermarkets in India since August and plans to open an additional four by the end of 2015.
Spar India hopes to reach a turnover of €300m (£221.4m) by 2019.
The Dutch retailer revealed its expansion plans to coincide with a tour of India by Dutch Prime Minister Mark Rutte, who visited a Spar hypermarket in New Dehli alongside a trade delegation.
Spar international managing director Dr Gordon Campbell said: "Our growth and success in India provides an ideal case study for the suitability of the Spar model in emerging markets.
"Where other global brands have struggled to gain traction, Spar's brand values and offering, global expertise and partnership model, have brought immediate benefits for retailer, supplier and, ultimately, the consumer."
International symbol group
Spar operates as an international symbol group, which means the same name is applied to multiple formats in numerous countries.
In the UK it is known for value-led convenience retailing, while its reputation in other countries varies considerably. For instance, in Ireland it has a Spar Gourmet concept where shoppers are encouraged to pass time with a cappuccino or snack as they buy their groceries.
Spar India managing director Viney Singh said: "Spar's understanding of international best practice in retail operations and supply chain management, combined with our consumer understanding and local sourcing strengths have created an immediate uplift in store sales.
"The Spar brand propositions of freshness and value have been very well received by the Indian consumer."