French grocer Carrefour has had a difficult year, but looks ready to expand into Poland with a series of new hypermarkets.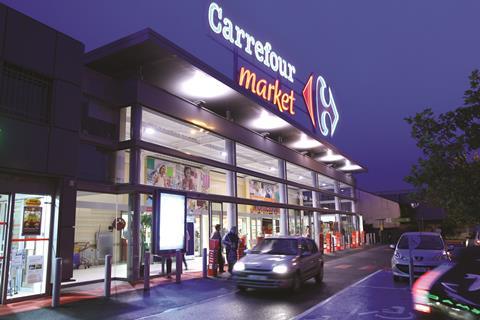 2014 was a difficult year for Carrefour Poland and its new managing director Guillaume de Colonges.

The Russian trade embargo created a food production surplus, triggering a fall in food prices and fuelling even greater competitiveness in a market already renowned for its tough trading environment.

However, Planet Retail sees the light at the end of the tunnel as we expect price evolution to swing back to positive territory in 2015, coupled with a progressive increase in total consumer spend during the year with an acceleration from 2016 onward.
With this positive perspective in mind, we note a resumption of more capital-intensive expansion from the French giant.

A series of new hypermarket launches are proposed for the urban areas of Warsaw and Poznan in 2016/17. Meanwhile, we foresee small-box growth to achieve the 500-unit milestone in 2015, meaning a threefold network increase over the past three years.

Parallels with French strategy
We are confident that Carrefour Poland is receiving a similar prescription as is being used to revive the business in France, including store refurbishments and a supply chain revision centred on store clusters, not to mention organisational decentralisation.

That should enable Carrefour to increase its assortment relevance to its specific catchment areas. Meanwhile, to help its hypermarkets appeal to a bigger-spending customer segment, the retailer has joined the government-backed large family programme, granting cardholder discounts on purchases.
We believe it is vital for Carrefour to assert its stance as competitors attack on several fronts simultaneously.

We believe supermarkets and small boxes will come under mounting pressure from dominant discount operators Biedronka and Lidl. Both are moving determinedly into urban centres, offering more convenience products and premium features, not to mention venturing into traffic-generating non-food categories.
Looking at other big-box operators, their ranks are massing around Carrefour.
We do not expect Tesco to present a major threat given the serious issues in its home market and capex and cost reduction, but domestic rival Auchan's substantial hypermarket acquisition (combined with its international purchasing alliance with Metro Group) will likely mean improved buying conditions, leaving greater room for manoeuvre should it opt to compete head-to-head on price.
We remain confident that Carrefour will be able to reap the rewards of its efforts in future, but many challenges lie ahead.
The foundations are now being laid on which tomorrow's growth can be constructed.
Gildas Aitamer, retail analyst, Planet Retail