Poundland's popularity has continued to grow thanks to the appeal of its single-price point and broad product range, and now boss Jim McCarthy plans to attract web customers too. By Tiffany Holland.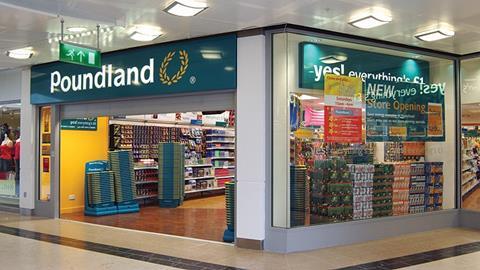 Poundland facts
348
The number of UK Poundland stores. It also has two in the Republic of Ireland
64
The number of stores opened in the last financial period
£641. 5m
Turnover for year-end March 27, 2011
The face of value retailing has changed rapidly in the last few years. Once the place where shoppers picked up everyday essentials such as cleaning products, cookware or gardening goods, they are now large professional outfits tailored to offer value and quality across a wide range of categories including food – an attractive proposition in the present economic climate.
Poundland perhaps exemplifies the shift. The retailer's popularity has risen to the extent that, having grown rapidly in the UK, it is now pushing into the Republic of Ireland, a move that illustrates chief executive Jim McCarthy's confidence that consumers will continue to "vote with their wallets".
Since September, when the single-price retailer opened two stores under the Dealz fascia in Portlaoise and Blanchardstown selling 99% of its products for b1.49, an average of 25,000 customers have walked through the stores' doors each week.
"We've found that product spend is much higher over there because of the value differential," McCarthy explains. "The price consumers are used to paying for some of the products is greater than in the UK.
"Although they do have other discount stores there they tend to be a lot smaller, selling a different product range from us. We have a deeper mix of products that they don't have."
Poundland intends to have at least six stores in the country by March 2012 and, judging by consumer demand so far, McCarthy expects that number to rise.
"There is one story I heard where a coach-load of people turned up on the second day of the Portlaoise store being open after their relatives had been the day before," McCarthy relates excitedly.
Budgeting with brands
The retailer's customers are attracted to a spectrum of products including health and beauty, food and drink, toys, pet products, stationery, house and home, baby lines, clothing, batteries and seasonal goods.
McCarthy says: "We know that brands are very important to people because they know the value of the product. At the moment brand manufacturers are under pressure as more supermarkets bring out own-brand ranges, so it seems discount retailers have become more relevant to their longer-term plans.
"Discount retailers are becoming a more routine part of a consumer's shop and they realise it's sensible to shop around and save money.
"Shoppers' habits are more promiscuous than they have been before.
The certainty of our price-point helps them budget."
Poundland now has 348 UK stores, following the launch of its Catford branch on Wednesday last week, when Retail Week met McCarthy at the company's Wolverhampton head office.
He has ambitions for more shops and to develop multichannel operations, such as a transactional website.
"The short-term ambition is to become a £1bn-turnover business, which we think we can hit in the next two or three years," says McCarthy. "We are aiming to hold a portfolio that is 500 stores strong. We think when times are good, we should press the accelerator."
But as inflation rises, and in the wake of raw material prices increasing, to what extent are single-price retailers' profits under pressure? Poundland's ability to move quickly and drive volumes means that suppliers are often willing to deal with it on terms attractive to the retailer, and McCarthy points out that it has a low-cost business model as well as low prices.
He says: "We have lower operating costs, which we can pass on to the consumer, and we are prepared to take a cut on margins if we need to."
Operating costs represented a third of turnover in the year 2010/2011, which was 0.2% percentage points less than the previous year, despite new store openings.
Poundland's results for the year to March 27 showed turnover hit £641.5m, up on the previous year's £509.8m. EBITDA increased 4.6% to £31.6m, but that was very different from the 2010 figures that showed a huge 50% increase.
The reason? The dreaded VAT increase at the beginning of 2011 that took the rate up to 20% from the previous 17.5%, and the lower 2010 VAT rate of 15%.
McCarthy says 15% VAT brought a one-off benefit but that when the two years' performances are adjusted to reflect the lower VAT in 2010 the improvement in 2011 was 33.9%. He believes this underlying EBIDTA figure is a more accurate measure of the retailer's performance
VAT trap
Managing higher VAT means some tough decisions have been made. McCarthy explains: "We see VAT as an input cost price increase, and it was a big increase. We have to be brave and sometimes delist a SKU if the numbers are not working.
"To manage our margins we have to ensure our balance of sales is right, that's what's important."
One example is sugar. The economics meant that Poundland could no longer sell the staple at a lower price than the supermarkets.
"We would have been 10p more than the supermarket," McCarthy says.
"We had been offering 1.5 kilos of sugar for £1, which worked out at 67p per kilo, while the supermarkets sold it at 83p per kilo. We couldn't sell it at the higher price because it would shatter consumer confidence in us. So we delisted it.
"When we decided not to sell it anymore, it was a concern and my heart did skip a beat but customers bought other things and the impact was mitigated. We will bring sugar back on to the shelves when it makes sense and when we can offer it at a cheaper price than the supermarkets."
Although like-for-like sales were "broadly flat" in the last financial year, McCarthy is extremely pleased with the retailer's performance.
"The numbers are strong," says McCarthy, "Warburg Pincus [Poundland's private equity owner] has absolutely supported our strategy of growth and preparation for initiatives. How we are working is judged on numbers. It is all about the metrics, so we are very focused on delivering value to stakeholders."
Warburg Pincus bought a 75% stake in Poundland last year in a deal that valued the retailer at £200m. That was before VAT rose to 20% but as part of the purchasing process a strategy had been drawn up to address a VAT increase.
Warburg Pincus seems to see plenty of growth potential in well-managed discount retailers – there has been speculation it may be a bidder for Belgian retailer Europris. McCarthy will not comment on that but says – unrelated to Europris – Poundland has been looking at a possible European growth strategy for the Dealz stores.
"But all this is way down the line," says McCarthy. "We don't yet have a transactional site – there are things we want to do and opportunities we want to be really successful with before we decide on overseas stores."
Multichannel plans
McCarthy recognises the influence technology is having over consumers' shopping habits. In the past discount retailers have tried to set up transactional websites but solutions to the main challenges have not yet been found.
Poundland hopes to change that with its multichannel offering and McCarthy is obviously excited by plans for the website. The project is still being developed but it is unlikely a site would offer the full range of products Poundland carries in-store.
"We know what products will work and we know exactly what products we won't be selling," says McCarthy. "I would be surprised if we are not testing it out in the next couple of years. One of the challenges to the website is ring-fencing the supply and we do not want to compromise our core operation." He also recognises that different payment methods will be important in future.
"A hell of a lot of consumers do their own price comparisons when they're buying products on their phone, as well as calling friends and relatives when they find a good deal.
"Consumers' phones really will be like their right arm. Poundland is exploring all types of payment."
Queue time in-store is another issue McCarthy is tackling, so that customers can easily pop in and out of the store if they are on a lunch break. "When we selected our chip and PIN service provider some might have expected we would go to the cheapest but we actually went with the quickest and most robust provider to help with queue times," he says. "If a machine is slow, it can add another 12 people behind you. Cost is the secondary importance – you cannot compromise on customers."
McCarthy is confident that Poundland remains perfectly placed to take advantage of restricted consumer spending. The retailer expects its best Christmas ever, as long as there is not a return to the arctic conditions the UK experienced last year.
"People are looking for value. UK consumers are wonderful because although they may be having a tough time, they still manage to celebrate.
We expect to see in excess of 5 million customers through the door on Christmas week provided we continue to do what we do well."
As far as McCarthy is concerned, his single-price model will exert appeal for a long time to come.
Euro expansion - Cracking the continent
Poundland's expansion into Europe may be a long-term goal but the retailer already has the foundations to move onto the continent.
Following the establishment of two Dealz stores in the Republic of Ireland, which opened in September, the retailer now has the capability to handle the euro and not just sterling.
Research on the Dealz name came out on top of the alternative, Euroland, and was conducted in both Ireland and Europe. But, says McCarthy, there is a lot to learn about consumer tastes in the different countries before any decisions are made.
"There is no timescale as to when we want to enter continental Europe," he says." "We have to truly understand Ireland first and once we have embedded ourselves there we would research continental Europe thoroughly.
"Consumers on the continent have different tastes to those in the UK and Ireland, while there would also be challenges in sourcing products.
"The value differential is also key. This is why Ireland works because the value differential for products is so large and we would need to find a country like that."
Indeed, Poundland would have to take into account the power of European discount groups such as Lidl and Aldi.
McCarthy says: "We are absolutely open-minded on Europe because we don't yet know enough about the markets to be swayed in one direction or the other."